The Christian Calling to Rescue Cultures – Prayer Warrior: U.S. Navy's Former Chief
Michael Lee Stallard, President, E Pluribus Partners
Thursday, August 23, 2012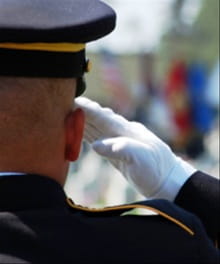 Second, Admiral Clark valued sailors and helped equip them to make a difference. Clark described his strategy as using the Navy's "asymmetrical advantages" of the "best technology in the world" combined with the "genius of our people." When Navy budget officials proposed cuts related to training and developing people as part of the annual planning cycle, Clark wouldn't allow it. Instead, he increased the training budget to support personal and professional growth. As part of what Clark called the "Revolution in Training," he established the Naval Education and Training Command with twelve Navy Centers of Excellence. He required everyone in the Navy to have a personal development plan. He changed the performance appraisal system to provide constructive feedback for everyone and added the requirement to leaders' performance appraisals that they help sailors learn and grow. In addition, he strongly supported an increase in pay that was approved by the President and Congress.
In the Navy, sailors who are part of the enlisted class can at times feel like second-class citizens as compared to the officer class. Clark understood this and made it one of his priorities to "blur the lines" in some respects between the officer and enlisted classes while still maintaining the necessary decision-making chain of command. When he traveled to commands and bases around the world, Admiral Clark not only met with Commanding Officers but also met with Master Chiefs (who are the leaders of the enlisted class). He asked the Master Chiefs to value the sailors under their leadership and see to it that they prospered. Clark told the Master Chiefs "these young sailors under our command swear to support and defend the U.S. Constitution from all enemies and we as leaders need to make promises in return. We need to give them the training and resources to enable them to fulfill their promise. We need to give them an opportunity to prove what they can do for their nation)." Admiral Clark said the advice and encouragement he received from a Master Chief when he was a young officer helped make him a better officer and he needed, and our country needed, the Master Chiefs to mentor and encourage today's young sailors in that same way. Clark's comments showed he valued the Master Chiefs. In turn, they reached out to help those under their command learn and grow which helped the sailors feel valued too.
Clark addressed legacy systems that made sailors feel devalued. One such system was the Navy's job assignment process. Under Clark and a program he dubbed "the revolution in personnel distribution," the system was changed to a job bidding approach with incentive compensation provided to the jobs and locations that were in the least demand. As a result, the percentage of sailors forced into positions or locations they didn't want was reduced from over 30 percent to less than one percent.
Finally, Admiral Clark gave sailors a voice in decisions when possible. He encouraged participants to speak up. His approachable, conversational speaking style set the tone for others to share their ideas and opinions. He asked everyone to "challenge every assumption," "be data driven," and "drill down" into the details. He challenged them to "have a sense of urgency to make the Navy better every day" in order to deliver greater efficiencies and readiness for the dollars America invested in the Navy.
Clark was more concerned about getting it right than in being right himself. He encouraged what he referred to as "constructive friction." This made it safe for people to disagree and express views that were outside of the consensus view. As a result, Clark's leaders felt connected to him and to the U.S. Navy, and they emulated his leadership style, which made the sailors under their command feel more connected.
Have something to say about this article? Leave your comment via Facebook below!
advertise with us
Example: "Gen 1:1" "John 3" "Moses" "trust"
Advanced Search
Listen to Your Favorite Pastors