The Christian Calling to Rescue Cultures: The Courageous Coach
Jason Pankau and Michael Lee Stallard, Authors
Wednesday, July 11, 2012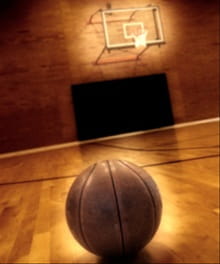 Editor's Note: This is the second installment in a series of articles about Christians who rescue cultures. The first installment, The Servant, can be found here. We hope that through this series, you will be persuaded of God's call for you to rescue the cultures you are in, that you will get ideas from the examples of others and that you will be encouraged to take action in rescuing the cultures around you.
When John Wooden returned from serving in the Navy following World War II, he became the athletic director and head basketball coach at Indiana State Teachers College. Wooden's 1946–47 team received a post-season invitation to the National Association of Intercollegiate Basketball (NAIB) national play-offs. (The NAIB existed before the NCAA.) After Wooden learned that Clarence Walker, a second-string guard on his team, would not be allowed to participate in the post-season tournament because he was African-American, Wooden declined the offer. At that time, African-American players were not allowed to play in the post-season college basketball tournament.
The college basketball world was stunned as word spread like wildfire that John Wooden turned down a post-season invitation. (Remember, this occurred more than two decades before the Civil Rights Act was passed in America.) Although Wooden was already well-known and respected in Indiana for leading his high school team to a state championship and leading Purdue to a national championship, you can be sure that it didn't shield him from a considerable amount of criticism and pressure to cave in and go to the tournament. Wooden, however, was unyielding.
The following season NAIB officials invited Indiana State again, and this time decided they would allow Clarence to play, provided he didn't stay at the hotel with his teammates and wouldn't be seen publicly with them. Once again, coach Wooden declined.
Wooden and his wife Nell knew that each and every young man on their team was created in the image of God. They treated them as extended members of their family and loved them like they were their own sons. The coach wasn't about to allow Clarence to be humiliated. But Clarence and his family saw it in a different light. They were excited about the opportunity for Clarence to become the first African-American player in history to participate in the prestigious post-season college basketball tournament.
So Clarence's family, along with officials from the NAACP, approached coach Wooden to persuade him that attending the tournament would help, not hurt, Clarence and other African-American players. After the meeting and much prayer, Wooden decided to accept the NAIB's offer. It wasn't long before the team packed up and headed to the play-offs in Kansas City.
On their way to the tournament, the team bus stopped for meals. If a restaurant wouldn't serve Clarence, coach Wooden made the team get back on the bus. Often the team had to pick up food at grocery stores along the way and eat on the bus.
When Clarence finally walked onto the basketball court to warm up, he appeared to be nearly paralyzed with fear. Many people in the crowd spotted the courageous young man, and they began to applaud. Clarence Walker became the first African-American player to participate in the NAIB play-offs, and Indiana State made it to the finals, where they lost to Louisville.
Because of Clarence's courage to play where he was not welcome and Coach Wooden's courage to stand up to a culture that was wrong when it came to excluding young men of color, the NAIB tournament was finally opened to all student-athletes. The following season three teams brought African-American players with them to the tournament.
Have something to say about this article? Leave your comment via Facebook below!
advertise with us
Example: "Gen 1:1" "John 3" "Moses" "trust"
Advanced Search
Listen to Your Favorite Pastors