The Word "Competition" is Not in the Bible
Os Hillman, President, Marketplace Leaders
Thursday, August 22, 2013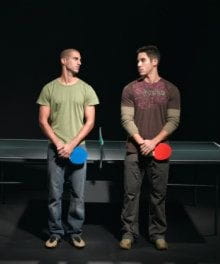 Each one should use whatever gift he has received to serve others, faithfully administering God's grace in its various forms (1 Peter 4:9-11).
There is a Kingdom principle I find few really understand. The principle is this: When you focus on serving others, your need is often met through God's supernatural law of serving, sowing and reaping.
I've seen this happen so many times. The law of sowing and reaping comes into play in this Kingdom principle. "Sow for yourselves righteousness, reap the fruit of unfailing love" (Hosea 10:12). "Remember this: Whoever sows sparingly will also reap sparingly, and whoever sows generously will also reap generously. Each man should give what he has decided in his heart to give, not reluctantly or under compulsion, for God loves a cheerful giver. And God is able to make all grace abound to you, so that in all things at all times, having all that you need, you will abound in every good work" (2 Corinthians 9:6-9).
God has already pre-ordained your provision.
Yes, that is right. You cannot out-give God. He knows where you were going to live. He knows when you were going to come on the earth. "LORD, you have assigned me my portion and my cup; you have made my lot secure. The boundary lines have fallen for me in pleasant places; surely I have a delightful inheritance" (Psalm 16:5-6). "From one man he made all the nations, that they should inhabit the whole earth; and he marked out their appointed times in history and the boundaries of their lands" (Acts 17:26).
God already knows your works: "For we are God's handiwork, created in Christ Jesus to do good works, which God prepared in advance for us to do" (Ephesians 2:10).
Whenever God calls me to serve another person with my time and resources, I notice how God measures resources back to me from unrelated sources. Sometimes it comes through an unexpected donation to our ministry or a speaking engagement or a new opportunity. It is uncanny how this happens consistently when I serve others. We are never to view people or organizations as competition. Faith says I do not have to manipulate outcomes.
We don't serve others to get. However, when you do serve others, there is a Kingdom principle that works on your behalf as fruit of your service.
An Audience of One
Eric Liddell taught us about competition as an Olympic runner. I will never forget the scene in Chariots of Fire when he told his religious sister, "When I run I feel His pleasure!" He never really thought about his competition because he only needed to worry about his performance before God. However, his competitor was obsessed about Eric Liddell. He HAD to beat him. But he didn't.
I love to play golf. When I play in a golf tournament, I am not playing the other player. I am playing the golf course. If there is any competition it is that I am fighting my own self-doubt and challenge to swing the golf club correctly. Outcomes take care of themselves. In the Christian life, that is translated as obedience.
For the Christian, we are simply called to obedience and faithfulness. We are to leave outcomes to God. Do those two things and you will always have provision. Even the Israelites had to learn this lesson when they were fighting in the Promised Land. God told them "So I gave you a land on which you did not toil and cities you did not build; and you live in them and eat from vineyards and olive groves that you did not plant" (Joshua 24:13). What was God saying? He was saying, "It ain't your problem!!" God was saying, "Do what I say and you will always have provision." Sometimes you will receive less than you think you deserve; sometimes you will receive more than you deserve - because it is all rooted in obedience.
Have something to say about this article? Leave your comment via Facebook below!
advertise with us
Example: "Gen 1:1" "John 3" "Moses" "trust"
Advanced Search
Listen to Your Favorite Pastors