When You're Looking for a Calling, Not Just a Job
Kevin and Kay Marie Brennfleck, National Certified Career Counselors
Friday, March 04, 2011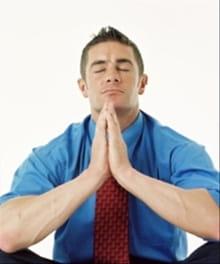 Many people haven't been exposed to a systematic, pro-active approach to career planning, and they're not sure exactly what they should be doing. So they get busy doing what they can to find work that they will like. They may scour Internet job postings, ask others for suggestions on what they should do for work, see what opportunities come their way, and maybe even take a job-or series of jobs-to see what fits. Their actions often end up becoming a "pinball approach" to making career choices: they bounce around looking at job options and hope that somehow they will fall into something they like.
Occasionally people do find jobs that fit them with these types of actions. Many more times, however, they end up even more frustrated than before. They hit dead ends or find themselves in a job that is worse than the one they left. The desire to find God's "calling" may fade; they just want a job that doesn't make them miserable. They may become frustrated with God, as well, especially if they have been praying for guidance along the way. Isn't He listening? Doesn't He care? Why won't He do something when all they want is to do something for Him?
Partnering with God to Discover Your Calling
What should you do if you find yourself feeling you were created to do "something more" with your life; if you sense the Lord prodding you to do something different; if you are in a time of career change, choice, and transition? Perhaps you have tried a variety of unsuccessful things to find the work God designed you to do. You are tired of bouncing around and not finding work that fits your gifts. So how can you find work that is a calling, not just a job?
First, recognize that finding your vocational calling is a partnership effort between you and God. God is ready and willing to do His part to guide you into the work He designed you to do. But you need to do your part, as well. St. Augustine, a fifth-century theologian, said that we should pray as though everything depends on God and work as though everything depends on us. Praying for the Lord to guide your footsteps will be ineffective unless you are willing to move your feet!
Discovering your calling takes prayerful action. God will not do for you what He wants you to do for yourself. Your faith, trust, and maturity will deepen and grow as you risk taking action. The process of taking action steps also shapes you into the person God needs for you to be for the mission He has chosen specifically for you.
Taking Prayerful Action Steps to Discover Your Calling
There is a sequence of action steps that is a proven path for discovering your vocational calling. God calls you to become the person He created you to be, and to do the things He designed you to do. He will partner with you as you prayerfully move forward. This process is a spiritual journey in which you will learn new things about yourself and about your relationship with the Lord!
As you look at the steps, determine your starting point in the journey of discovering and living your calling. Then identify a specific action step you can take TODAY to get started!
1. Identify the key dimensions, or "puzzle pieces," of your unique God-given design. There are several important components of your design, including your most-enjoyed transferable skills, core values, personality traits, preferred roles, compelling interests, and spiritual gifts.
People learn about their design through life experiences, feedback from others, and from career tests and assessments. Using good career assessments is one of the most expedient ways of identifying and organizing information about your design.
2. Allow yourself to envision a God-sized calling. Most people have dreams for their lives that are too small. Their goals for their lives are limited by a lack of vision, fear, and everyday concerns. God calls us to undertake tasks and roles in our lives that we cannot accomplish on our own so that we can see His power at work.
Have something to say about this article? Leave your comment via Facebook below!
advertise with us
Example: "Gen 1:1" "John 3" "Moses" "trust"
Advanced Search
Listen to Your Favorite Pastors