Accepting Economic Change
Deborah Smith Pegues, Author, Financial Survival in Uncertain Times
Wednesday, February 25, 2009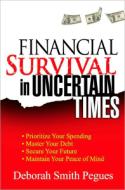 We are all creatures of habit, and most of us find it difficult to embrace change. But during times of economic uncertainty, we must be prepared to make concessions about our preferences and druthers—specially as they relate to housing or employment. It is important to remind ourselves that God is indeed our source and that He selects the channel through which He provides for us. Our jobs and other streams of income are channels for our resources. Further, our current residences are temporary dwelling places; we will not spend eternity there.
I am constantly reminded of the words of my spiritual mentor, the late Dr. Juanita Smith. She admonished, "Wear the things of this world like loose garments." This simple advice is hard to practice in our materialistic world where we work hard for and cling to our possessions. I have spoken to several people who were crushed when they lost their homes due to interest rate adjustments on their mortgages, unemployment, uninsured medical problems, or other misfortunes. Yet, others have taken the loss of their homes in stride. What makes the difference in their attitudes? I believe it's a mind-set that says, "Everything has a purpose. The will of the Lord be done!" rather than, "It's not fair!" It's all a matter of how much we trust God with our destiny.
Biblical Examples of Embracing Change
Let's look at the response of a couple of biblical characters who found themselves having to embrace change during an economic downturn.

Elijah the Prophet
When God instructed Elijah to declare a drought in Israel, Elijah soon realized that he too would be affected by the lack of food. However, being a man of faith, he knew that God is never without a channel.
Then the word of the Lord came to him, saying, "Get away from here and turn eastward, and hide by the Brook Cherith, which flows into the Jordan. And it will be that you shall drink from the brook, and I have commanded the ravens to feed you there." So he went and did according to the word of the Lord, for he went and stayed by the Brook Cherith, which flows into the Jordan. The ravens brought him bread and meat in the morning, and bread and meat in the evening; and he drank from the brook (1 Kings 17:2-6).
Ravens! Those nasty birds will eat anything. They have a special fondness for dead animals and garbage. Yet God commanded them to bring His prophet two meals a day. We must be careful not to despise our channel when we are forced to take a less prestigious job, downgrade our housing, or make other life adjustments. Further, we must also be careful not to depend on our channel.
And it happened after a while that the brook dried up, because there had been no rain in the land.
Then the word of the Lord came to him, saying, "Arise, go to Zarephath, which belongs to Sidon, and dwell there. See, I have commanded a widow there to provide for you." So he arose and went to Zarephath. And when he came to the gate of the city, indeed a widow was there gathering sticks (17:7-10a).
Before you breathe a sigh of relief that he no longer had to be fed by the ravens, let me rush to tell you that this woman was not a rich widow but a single parent who—along with her son—was on the brink of starvation. Yet, she was the chosen channel that God had commanded (as He had commanded the ravens) to supply Elijah with food. Because of her obedience to God, the widow, her son, and the prophet survived and never ran out of food during the entire drought (1 Kings 17:10-17).
The Rich Shunammite Woman
This hospitable woman of great financial means willingly opened her home to Elisha, Elijah's protégé. She and her husband even added a room to their home to accommodate his frequent visits to their town. Although childless when she met Elisha, he prophesied that she would have a child and, much to her delight, the prophecy came true. (Elisha later restored her son to life after he suddenly became critically ill and died.) Life was good. That is, until God ordered a famine in the land, and she and her family found themselves having to relocate for their own survival.
Have something to say about this article? Leave your comment via Facebook below!
advertise with us
Example: "Gen 1:1" "John 3" "Moses" "trust"
Advanced Search
Listen to Your Favorite Pastors