The Call to Generosity
Steve Diggs, Personal Finance and Life-Skills Coach
Monday, June 25, 2012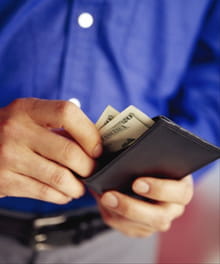 The Bible is full of financial advice. By one count there are over 2,200 passages in Scripture dealing with money and materialism. According to my wife's research, fourteen of Jesus' thirty-eight parables involve money. In the No Debt No Sweat! Christian Money Management Seminar, I teach Christians how to use their money. In this visit I want to share a key principle.
The trouble with money is that we get a lot of misinformation from our culture about it. There's a lot of what I call "money noise" out there. Television has always filled countless hours of time with shows promoting the idea that money and happiness are synonymous. In the 1950's, it was The Millionaire. By the 1980s we were watching The Lifestyles of the Rich and Famous. More recently, Regis wants to know Who Wants to Be a Millionaire?
Paul told his young protégé, Timothy, "The love of money is a root of all kinds of evil. Some people, eager for money, have wandered from the faith and pierced themselves with many griefs" (1 Timothy 6:10, NIV). But that begs the question: What is the love of money? And that in turn leads to a host of other questions: Is it wrong to have money and wealth? Should Christians strive for "the things" of the world? Or should we disavow all earthly pleasure and focus solely on an eternity of joy with Jesus? Again, this is where we can miss the point. Sometimes Christians get on television and encourage their followers to "name it and claim it," or as I prefer to say, "blab it and grab it." This greed-based theology wouldn't fly in any country in the world other than America. Any Christian who dared postulate such heresy in a Third World country, where Christians are barely hanging on by their fingernails, would be laughed to scorn.
On the other hand, I don't believe that God expects us to live in orange crates. So where is truth on this issue? I've long been grateful that Paul laid a lot of these perennial questions to rest in 1 Timothy. Here the apostle lays out an entire theology of wealth management for God's people:
Command those who are rich in this present world not to be arrogant nor to put their hope in wealth, which is so uncertain, but to put their hope in God, who richly provides us with everything for our enjoyment. Command them to do good, to be rich in good deeds,
and to be generous and willing to share. In this way they will lay up treasure for themselves as a firm foundation for the coming age, so that they may take hold of the life that is truly life. (1 Timothy 6:17-19)
Let's take a moment and really look at what Paul tells Christians here. First, he acknowledges that there are Christians who are "rich in this present world." (I'm glad he included the "in this present world" part, so high-minded Christians couldn't claim that Paul was simply referring to spiritual wealth).
Second, Paul proceeds to give a three-step to-do list for these wealthy Christians:
1. He says that wealth should not be an excuse for arrogance. In God's economy, whether we live in an alley or on an avenue, there is neither rich nor poor—just broken people desperately in need of a savior.
2. Next, he warns against the tendency of most rich people to put their hope in money. Why? Because there is no security in money; as anyone who had a 401(k) plan in 2009 can attest, wealth is uncertain. It can slip through our fingers like dry sand on a windy beach.
3. Then Paul tells Christians to adopt a lifelong strategy of doing good. He puts an even sharper point on it by telling them, "to be generous and willing to share." What does this mean?
Have something to say about this article? Leave your comment via Facebook below!
advertise with us
Example: "Gen 1:1" "John 3" "Moses" "trust"
Advanced Search
Listen to Your Favorite Pastors