Break Free From Financial Bondage
Steve Diggs, No Debt, No Sweat! Christian Money Management Ministry
Monday, March 21, 2005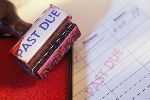 Sssshh! Don't tell anyone, but today there's a dirty little secret in many of our homes that is robbing us of peace, damaging our witness, and destroying our spiritual vigor. Sure, this might be the introduction to an article about marital infidelity, Internet pornography, or one of the other "high profile" sins. But it's not. Instead, I'm referring to a plague that we rarely acknowledge until it has done its damage. I call it Stuffaholism.

Stuffaholism is the unrelenting lust that drives us to buy things we don't want, with money we don't have, to impress people we don't like! And as a result, many of us are drowning in debt today.
Americans spent the last decade piling up debt. We learned that a teacher could live like a tycoon with enough credit cards and an occasional home equity loan. Now we find ourselves awakening with a financial hangover in the new millennium. If the old adage about "misery loving company" is true, the following will leave you delirious:
• Total household debt (credit cards, mortgages, auto loans, etc.) exceeded 100% of total disposable income for the first time in 2000.
• We're now charging over one trillion dollars on our credit cards each year.
• The kids are following in their parents' footsteps. According to CardWeb, the average graduating college student has a credit card balance of about $3,400.
• Some experts believe that money problems are the leading cause of divorce in America by a rate of 4 to 1 over anything else.
• Today, the average household credit card balance is almost $10,000.
• In 2003, Americans increased their debt load by another 20%.
• Although most Americans overestimate their level of financial assets and wealth by up to 25 times, the Consumer Federation of America tells us that the typical family in the US has net financial assets (counting retirement accounts) of just $9,850.
• In the typical household, consumer debt is more than 50% of total financial assets.
We Never Meant For It To Be This Way
If you are like many Americans today you started your early adult life planning for success. Despite those plans, if you are like 70% of American families today, you are living paycheck-to-paycheck. For you, the American Dream long ago became a gothic nightmare. You know all too well what it feels like to sit bolt upright in the middle of the night, sweating about paying the rent, maxing out another credit card, or having another "discussion" about money with your spouse.
So, Where Do We Start?
Like they say, the best place to start is at the beginning. So, let's begin by admitting the obvious: We live in a world system that often is not consistent with the Christian ethic. The world tells us that happiness comes with acquisition. God tells us that joy comes with contentment. Far too often, we Christians buy into the world's philosophy.
Yet if happiness requires acquisition -- we'll never be happy. The world always has something that's "new and improved" along with savvy plans to transfer the money from your wallet into their corporate piggy banks.
The Christian's Closet Sin
Like most of the problems we face, financial pain has its roots in the bad decisions we have made all along the way. And, like most bad decisions, we are filled with shame and fear that others will find out.

So instead of bringing the problem into the light where it can be dealt with, we try to hide it from others -- and often ourselves. To admit financial failure is to admit that something in our lives is out of control, and we don't like to do that. But eventually, the house of cards falls in on itself. That's when what we had hoped would remain a private struggle suddenly becomes very, very public.
Have something to say about this article? Leave your comment via Facebook below!
advertise with us
Example: "Gen 1:1" "John 3" "Moses" "trust"
Advanced Search
Listen to Your Favorite Pastors