Creative Stewardship of Family Finances
Christy Stone, The Old Schoolhouse Magazine
Friday, September 30, 2011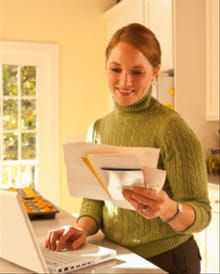 I think I was born with entrepreneurial excitement flowing through my veins. As a preteen, selling cookies at our friend's garage sale was more fun to me than playing! There was just something about looking down at that cash and knowing we had worked to earn the money that brought a sense of accomplishment and excitement.
As teenagers, my sister and I bought ribbons and hair clips with money we had earned by babysitting. We started a little business in which we made hair bows to sell at consignment stores and craft boutiques. Between September and December, we earned enough money to pay for a vacation to California for our entire family! Thus began my love for finding creative ways to purchase quality items and provide fun experiences for our family, products and experiences that otherwise would be financially impossible for us.
As a busy wife and homeschooling mom, my goal has never been to earn money to supplement my husband's income. Instead, my motivation has been to be a creative steward of the money my husband works so hard to earn. My desire is to exemplify the words of Proverbs 31:11: "The heart of her husband doth safely trust in her, so that he shall have no need of spoil."
I would like to share with you some of the ways I have learned both to save money and to earn money. The fun thing about this subject is that the options are limitless and can be tailored to utilize your personal talents and interests.
Couponing
"A dollar saved is a dollar earned." I don't know how many times I have heard my mom say this, and she is right! One of the easiest ways to "earn" money is to save money on something you would normally buy. It is satisfying to know that although I am not the one going to work every day to provide for our family financially, I can still contribute in a very real way by being diligent to get the best buy on everything I purchase.
I began couponing just over a year ago. Before that time our family budgeted $400 a month for groceries, which did not include personal toiletry items, household paper items, diapers, etc. After a year of couponing, our budget now ranges from $100–$200 a month for groceries and includes all household and personal items—for a family of seven.
Some of the questions I often hear when talking to my friends about couponing include these: "If I normally shop store-brand items at a discount grocery store, will I really save money using coupons?" and "We like to shop for organic items and avoid processed foods; will couponing work for us?" and "How do you ever find the time?"
Before couponing I shopped frugally at discount grocery stores. Now I am able to get things for free or for a fraction of the discount store-brand prices. The idea is to combine coupons with store promotions and sales in order to get the best deals.
It is a lot harder to find coupon deals if you exclusively shop organically. One of my goals is to save money on items that I would normally buy (such as cereal, frozen foods, canned foods, toiletry items, cleaning supplies, and diapers) and then use the money I have saved to buy u-pick organic fruits and vegetables and hormone-free meat.
In our house, Tuesday evening is "Mommy's night out to coupon." I enjoy shopping with a couple of friends while my husband stays home with the kids. My children look forward to that night alone with Daddy! I like to set aside Tuesday afternoons for organizing my coupons, planning out a route of stores to visit, and determining what I will be purchasing at each store. This helps me to limit my "couponing time" to one afternoon and evening a week, which is manageable for our family.
A huge part of couponing is stockpiling. When diapers are less than $3 a pack, I like to buy several months' worth of them so that the supply will last until the next great deal comes along. When cereal is 50 cents or less per box (it's often free!), I'll purchase fifty boxes. After building up a supply of the items I use on a regular basis, I can be very selective about the price I'll consider paying for something. Then, when an amazing deal comes around again, I replenish my supply.
Have something to say about this article? Leave your comment via Facebook below!
advertise with us
Example: "Gen 1:1" "John 3" "Moses" "trust"
Advanced Search
Listen to Your Favorite Pastors