Creative Stewardship of Family Finances
Christy Stone, The Old Schoolhouse Magazine
Friday, September 30, 2011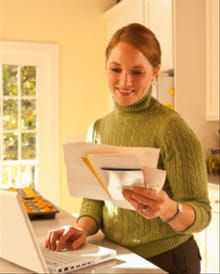 An incredible amount of helpful advice about couponing is available on the Internet. A great way to begin is to follow the blogs of couponers in your area who post information about the sales and coupon match-ups for your local stores. "The Grocery Gathering" on the blog titled becentsable (http://www.becentsable.net/) has a large list of couponing blogs from bloggers located throughout the U.S. You also can find a great deal of helpful information, including searchable coupon databases, from a couponing forum. Two of my favorite forums are http://www.afullcup.com/ and http://www.hotcouponworld.com/.
Buying Quality Used Items
When I talk about buying used items, I'm not referring to buying the fifteen-year-old stove from the garage sale for $20 in order to save money! While that may be necessary at times, I have found that when we buy quality used items, we actually acquire much nicer furniture, appliances, and home décor than we would have been able to afford if we had bought brand-new items.
When your refrigerator needs to be replaced, instead of heading to Sears to buy the most basic model (which is on sale for $350), why not spend $300 for a two-year-old refrigerator (found via craigslist)that originally sold for $1,400? That's exactly what we did when we purchased our house three years ago. We were able to purchase every appliance in our home from craigslist or a Habitat for Humanity ReStore. It's wonderful to have almost new, top of the line quality appliances and know we spent less than the amount we'd budgeted for each purchase!
When purchasing large items, patience and research are the keys! It took eighteen months of casually browsing craigslist before we found the living room furniture that was just right for our family. It was worth the wait since we eventually found a set we loved for a great price. If you can live without the item you need for a few months—until that perfect one becomes available at a good price—it will be worth the wait. Don't be tempted to buy the bookcase (made out of recycled fibers) at Walmart when, with a little patience, you could have a beautiful solid wood bookcase for the same price.
Look at http://www.craigslist.org/about/sites to find classified ads in your area. Habitat for Humanity ReStore resale outlets sell reusable and surplus building materials to the public. You can find a directory of these outlets at www.habitat.org/restores.
Creative Ways to Afford Your Hobbies
My favorite hobby is purchasing clothing my five children, aged 8 and under. I just love shopping for cute clothing, making hair bows, laundering and ironing their clothes, and even reselling the clothes when we are finished with them.
I am always amazed by the different reactions we get when I take the kids out on an errand with me. When I quickly grab them in their play clothes, a little disheveled, for a quick trip to the store, I get plenty of comments like these: "Are they all yours?" and "Wow. You have your hands full!" In sharp contrast, when the kids are dressed in cute outfits with their hair done nicely, the comments range from "They're so cute! How old are each of you?" to "My, what a beautiful family you have!" In regard to having a large family, I love the testimony of the latter scenario.
Now, how do I afford this hobby without it being a burden on our family finances? It takes creative thinking! I purchase name-brand, quality clothing for the children on clearance, usually at the end of a season, to set aside for the following year. After taking good care of the clothing throughout the time they are wearing it, I then resell the clothing and use the money to buy the next season's wardrobe. By doing this I have been able to clothe all five of my children at no cost to our family since the time my oldest was 1 year old.
Have something to say about this article? Leave your comment via Facebook below!
advertise with us
Example: "Gen 1:1" "John 3" "Moses" "trust"
Advanced Search
Listen to Your Favorite Pastors