Creative Ways to Teach Children How to Make Money
Megan Pacheco, Finicity
Friday, August 23, 2013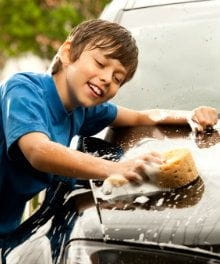 "He who tills his land will have plenty of food, but he who follows empty pursuits will have poverty in plenty." - Proverbs 28:19

When it comes to financial education, most parents usually focus on teaching their young children the basic principles of giving, saving and spending. That's great, but what about earning income?
The Bible admonishes us to do our work as unto the Lord. It tells us to work hard, to rise up early and not be idle. As adults who are part of the working world, we get this, and many of us apply the Biblical wisdom on work in our daily routine. But how about our children?
How early is too early to start teaching our young ones a good work ethic? I'd argue that the sooner we start, the better.
Every age group has its own challenges, and the type of work and how much creativity we use in helping our children to generate income will vary. Here are few options, by age group, to help you teach your young ones the value of earning money, the value of hard work and being rewarded for a job well done, as well as the value of giving and saving their hard-earned money.
Ages 4-7
This is a great age to start teaching our children the value of good work. They may not be ready to do much outside of the home, but there are plenty of opportunities inside the home to start teaching them the value of work. Make it fun, make it visual and make it rewarding!
Weekly reward system: A simple way to start would be to teach your children to take care of their space. Let them own their room and their bathroom. Create a daily and a weekly work chart where you can check off responsibilities like making the bed, picking up the toys, putting their dirty clothes in the hamper, etc. Weekly routines could include taking the trash bag out of the trash can and dusting. Establish a reward system where on weekly basis your child gets the opportunity to earn a "job well done" reward. Be careful how you establish the reward system since you don't want your child to assume that every time they make the bed or pick up toys they should expect a payment. Rather it should be a reward where only when expectations are met, the reward is received.
Serving others: Meal times can be a great way to give your child the opportunity to work beyond their own space and serve others at the house. How about asking them to clear off the table by bringing all of the dirty dishes back to the kitchen? Not just their own, but everyone's. Sure, they may need some extra assistance from your side, or from their older siblings at the beginning, but sooner than you know it they'll be able to complete these tasks on their own.
Ages 8-12
Here is where the real fun with creative income generating opportunities begins. This age bracket is also perfect for learning whether your child has a natural entrepreneurial spirit.
Summer ideas: Summer break is a great time for your children to earn money.
1. Ask your child to choose toys they don't play with anymore and clothing they don't use as items to be sold at a yard sale. Work with your child to put together a sale, have them work it from start to finish, then agree on splitting the proceeds accordingly.
2. Do you live in a neighborhood that does neighborhood-wide yard sales? How about doing a refreshment stand during the yard sale? You can decide to invest $20-$30 to purchase muffins, coffee and other breakfast items and your child can tend the refreshment stand. After the sale, recoup your investment and allow your child to keep the remaining proceeds. This will be a great lesson on investing and generating returns.
3. If you live in a neighborhood that has a community pool, ask about the possibility of your child running a poolside refreshment bar with popsicles, lemonade and cookies. This is another great way to engage them in creative income generation and honing their interpersonal skills. This time you may encourage your child to invest a portion of their saved money to teach them about investment and risk.
Have something to say about this article? Leave your comment via Facebook below!
advertise with us
Example: "Gen 1:1" "John 3" "Moses" "trust"
Advanced Search
Listen to Your Favorite Pastors