Educated and Debt-free: YES it is possible!
Megan Pacheco, Finicity
Wednesday, April 17, 2013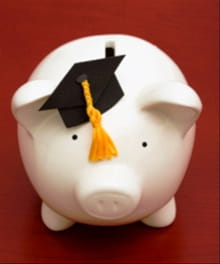 Student loan debt increased to $956 billion!
Student loan 90-day delinquency rate increased to 11%!
Student loan debt reaching bubble-bursting levels!
More than half of all college graduates in 2010-11 were unemployed or dramatically underemployed!
The statistics on student loan debt and college grad unemployment rates are alarming. The madness needs to stop, and you as a parent can play a key role in reversing this horrid trend.
Planning for college can be both exciting and emotional for students and parents.
Most conversations revolve around money. How much will it cost? Can we afford to pay for it outright? Should we opt for student loans?
Let's face it, not many up and coming college students will have the option to attend the school of their choice and have 100% of the "tab" picked by their parents. And is that even the best way to prepare the younger generations for "real life?"
But before we talk about saving money, there is another critical question that both parents and students should ask. Will this degree program lead to marketable skills? Unfortunately not many are addressing this issue, and as a result, too many young people graduate with degrees that won't help them land good-paying jobs.
Time is Money…so don't waste it! Before looking at schools, help your child figure out how they are wired and what their natural strengths and weaknesses are. Use that information to choose a degree that will utilize those natural gifts and produce marketable skills. Don't let them be the proverbial blind squirrel that's "hoping" to find a nut! There are many great career and life coaches who can help your child discover their unique design. Making a small investment in an assessment and a few coaching sessions could save you and your child time, money and frustration in the future.
Earn it. Graduating one year later with NO debt is far better than graduating on time or early with tens of thousands of dollars worth of student loan debt. Working while studying will give your child the opportunity to get a degree AND experience. Many employers are looking for a minimum of one-to-two years of experience. Choosing this path may actually give your child an upper hand in landing a job upon graduation. Working while going to school can also help them get a handle on what they enjoy and what may not be the best fit for them. I'm sure you've heard this many times: "If you do what you love you'll never work a day in your life." So help your children catch a vision for the future, and not just for the next four or five years of life.
Should I stay or should I go? Choosing a local two-year college and then transferring to a four-year school is a very common practice that allows for cost savings. According to U.S. News & World Report, the average cost of out-of-state tuition for the 2011-2012 school year was $17,785. That's more than twice the cost of in-state tuition and fees, according to College Board. That does not necessarily mean you'll always pay less if you stay local. Here are few things you can do to cut the cost of out-of-state schooling:
- Ask for a tuition waiver. You'd be surprised how many schools offer this option.
- Check out border states. In some cases those states will offer in-state tuition.
- Alumni benefits. Your child may qualify for special tuition wavers if you graduated from the school.
Have something to say about this article? Leave your comment via Facebook below!
advertise with us
Example: "Gen 1:1" "John 3" "Moses" "trust"
Advanced Search
Listen to Your Favorite Pastors