How to Build and Maintain a Strong Credit Score
Matt Bell, SoundMindInvesting.com
Wednesday, August 01, 2012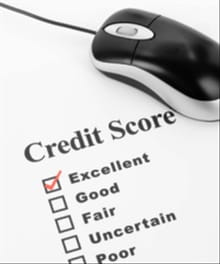 If you have a high debt to credit ratio, you will raise your score if you can pay down your debt, especially credit card debt. The improvement should show up within thirty days.
Account information. Are there any accounts you don't recognize? This could be a sign of identity theft. If you see such accounts, contact those creditors directly and let them know the accounts are not yours.
Check to see if there are any late payments noted. For Experian, you want your open account status listed as "Open/Never Late." For Equifax, "Pays as Agreed." For Transunion, "Paid or Paying as Agreed."
If any accounts are listed otherwise, and you believe you have never been late with a payment, contact the creditor. Let them know you believe a mistake has been made and ask if they will change it on your credit file.
Personal information. Check to see that the following information is correct: the spelling of your name, your birth date, current and previous addresses, Social Security Number, and current and past employer information.
If you see any problems on your report, file a dispute. Instructions are on the report.
Buy Your Credit Score
Your credit reports are free; your credit score is not. There are some Web sites that offer free credit score estimates, but I recommend that you purchase your FICO score. FICO stands for Fair Isaac Corporation, which is the company that created the credit score and whose scores are the most widely used.
On Fair Isaac's web site, you'll have your choice of purchasing your TransUnion FICO score or your Equifax FICO score. It doesn't really matter which one you choose; just buy one for $19.95.
Credit scores range from 300 to 850. Unlike cholesterol, the higher the number the better. Ideally, you want your score to be in the mid 700s or higher.
Do the Right Thing
Credit scores have an aura of mystery. There's no end to the articles offering this strategy or that for increasing your score.
The truth is, there are two very basic steps everyone can take to build and maintain a good score: pay your bills on time and use a relatively small amount of your available credit. Focusing on those two things will go a long way toward keeping your financial reputation—your credit score—strong.
What questions do you have about credit scores?
Other posts in this series on the 11 principles that lead to simple, meaningful success:
The Purpose of Money (Principle One: Know Who You Are)
How to Recession-Proof Your Career (Principle Two: Earn Diligently)
The Single Most Powerful Personal Finance Tool (Principle Three: Plan to Succeed)
An Irrational Financial Act (Principle Four: Give Some Away)
Common Questions About Biblical Generosity (a continuation of Principle Four)
Pay Yourself Second (Principle Five: Put Some Away)
The Debt Doctor Will See You Now (Principle Six: Ruthlessly Avoid Debt)
Practical Steps for Getting Out of Debt (a continuation of Principle Six)
The Essentials of Investing (Principle Seven: Patiently Pursue Interest)
Matt Bell is Associate Editor at Sound Mind Investing, publisher of the best-selling investment newsletter written from a biblical perspective. Its core investment strategy has beaten the market in 11 of the past 13 years. For a limited time, Sound Mind Investing is offering a 30-day free trial membership.
Publication date: August 1, 2012
Have something to say about this article? Leave your comment via Facebook below!
advertise with us
Example: "Gen 1:1" "John 3" "Moses" "trust"
Advanced Search
Listen to Your Favorite Pastors