Questions About Contentment
John Richardson, Communications Director, GenerousChurch
Wednesday, December 19, 2012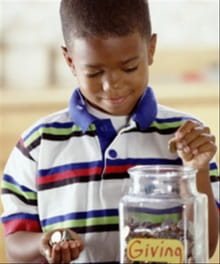 Why not keep striving after more?
Contrary to what our culture tells us, there is such a thing as having too much money. The problem lies not with money itself, but rather with the effect it has on us. Financial advisor and author Ron Blue has commented, "My experience has been that prosperity has led Christians to fear loss. Furthermore, the fear of loss has led to a loss of faith. The more we have, the tighter we grip it. The tighter we grip it, the more things (like Y2K, for example) scare us to death." The Scriptures say, "People who want to get rich fall into temptation and a trap and into many foolish and harmful desires that plunge men into ruin and destruction" (1 Timothy 6:9). In other words, the desire to accumulate more and more is spiritually dangerous. If God chooses to send wealth our way, that is His prerogative, but we are not to go striving after it.
How can I determine how much is enough?
This is the right question to ask. If we don't set financial "finish lines" for ourselves, then we will never stop accumulating. But how much is enough? And how are we to go about deciding? As it turns out, the Bible is conspicuously silent on the matter. It simply doesn't tell us either how much we must give (2 Corinthians 9:7) or how much we may keep (1 Timothy 6:17-18). Veteran financial advisor Ron Blue explains, "When it comes to setting your financial finish lines, God is far more interested, frankly, in the process of making a decision than He is in the decision itself. Why was it that the Israelites marched around Jericho seven days (Joshua 6:1-6)? We don't know, but that's what God was interested in. Why was God interested in the process of speaking to the rock rather than striking the rock (Numbers 20:1-13)? God is very interested in this process of decision-making." So, when you sit down to decide on a financial finish line, the only rules are: (1) pray to the Lord for wisdom, and (2) surrender everything to Him, whatever your specific finish line may be.
If I have more money than I need, what should I do with the excess?
To this question, the Scriptures give a very clear answer. The apostle Paul writes, "Command those who are rich in this present world ... to do good, to be rich in good deeds, and to be generous and willing to share" (1 Timothy 6:17-18). In other words, extra money exists to be given away. And when we give away our excess, the Scripture says that we are investing in the coming age (1 Timothy 6:19).
This article originally appeared on GenerousChurch.com. Used with permission.
GenerousChurch helps leaders like you release generosity in your church through leadership development, campaigns, and culture change. Our books, online learning, coaching, events, and web resources will help you expand the impact of your leaders, change your money conversation, and grow the giving capacity of your people. We partner with National Christian Foundation, along with other ministry alliances.
Publication date: December 19, 2012
Have something to say about this article? Leave your comment via Facebook below!
advertise with us
Example: "Gen 1:1" "John 3" "Moses" "trust"
Advanced Search
Listen to Your Favorite Pastors