Tapping Into the Odd and Powerful Force of Momentum
Matt Bell, SoundMindInvesting.com
Monday, June 06, 2011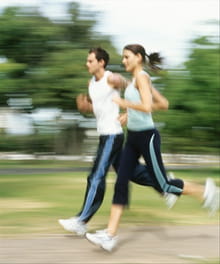 I pick a landmark up ahead – maybe a house or a streetlight. I look at it for a few strides and then I look down for 10 or 20 strides. By the time I look up again, I can see that I actually have moved forward and that's encouraging.
It's important to set sub-goals when going for a financial goal as well. Maybe you've run the numbersto see how much faster you'll dump your debts if you throw an extra $50 or $75 at them each month. Every time you hit that sub-goal you're making tangible progress.
Deciding to Not Stop
Recently, a reporter asked me about the idea of taking an occasional month off from whatever you're doing to pursue a financial goal in order to celebrate some of the wins along the way. It's a common idea and, without thinking about it enough, I said I thought it made sense. I wish I hadn't said that.
I don't think you should stop. Not until you accomplish the goal you're pursuing. The feeling of accomplishment from achieving each sub-goal is celebration enough.
When I started running, whenever I'd approach a train track, I'd hope for a train. I thought it would feel good to stop and catch my breath. But what I quickly discovered is that it's less painful to keep going (assuming there's no train coming!). Stopping kills momentum. Starting again is tough.
So, hold off on any early momentum-stopping celebrations. Wait for the big win. And then make sure you have another goal in mind for after you complete the first goal.
May The Unbalanced Forces Be With You
What goals are you going for? Have you made a commitment? Do you have an accountability partner? Have you broken the goal down into a series of small wins? Have you decided to not stop?
If you have, rest assured, you're an oddball. Some might say you're downright unbalanced. And I'm betting on you to get to where you're going.
What else have you found helpful in building and maintaining momentum?
Matt Bell is the author of three personal finance books published by NavPress, including the brand new "Money & Marriage: A Complete Guide for Engaged and Newly Married Couples." He teaches a wide variety of workshops, including MoneySmart Marriage, at churches, conferences, universities, and other venues throughout the country. To learn more about his work and subscribe to his blog, go to: www.mattaboutmoney.com.
Have something to say about this article? Leave your comment via Facebook below!
advertise with us
Example: "Gen 1:1" "John 3" "Moses" "trust"
Advanced Search
Listen to Your Favorite Pastors