Does It Ever Pay to Buy Organic?
Mary Hunt, Debt-Proof Living
Tuesday, May 16, 2006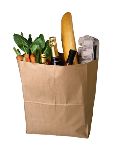 Call me cynical, but when I read the word "organic" on anything in the grocery store, what I really see are a few extra dollar signs.
On average, simply calling something organic can increase the price by half at best. And at the worst, you can easily end up paying 100 percent more—especially if that label is on milk or meat.
There was a time I would have insisted that we're wasting our money buying organic because there is no proof that conventionally produced food pose no health risks of any consequence. But I can no longer suggest such a thing.
First, a growing body of research shows that pesticides and other contaminants are more prevalent in our food, our bodies and the environment than we thought previously.
Second, there are increasingly more ways to add organic products to your grocery cart without breaking the bank. The secret is to know when it is important to consider organic and when it makes no difference.
Dairy products, meat and produce are the three grocery areas of concern. But not all items in these supermarket departments are problematic when produced conventionally.
Apples, bell peppers, celery, cherries, strawberries, spinach, peaches, milk, chicken and beef absorb significant quantities of pesticides and chemicals when produced conventionally. These are items that warrant your consideration when produced organically.
Not so with another list of food items that do not absorb the bad stuff so readily. In fact there is little difference between organically produced and conventionally-produced in the items that follow and therefore not worth the money: processed foods, cauliflower, sweet corn, broccoli, asparagus, mangoes and sweet peas.
Never pay extra for "organic" fish or seafood. There are not USDA regulations in place, possibly because you cannot control what gets into fish, even when they are "farm raised." If you see organic-labeling on fish or seafood, consider that a marketing ploy by the producer. It is meaningless.
Equally silly are references to "organic" on cosmetics and hair products. Because there are no regulations, a company can put "organic" on the label if there is one ingredient out of 100 that can be considered such. All the rest can be chemicals.
Buy cheap
Comparison shop. Many supermarkets are increasing their organic offerings. When it comes to fresh produce, remember that you'll save by buying it in season.
Stay local. You can find organic growers at most farmers markets. A 2002 USDA study found that about 40 percent of those farmers don't charge a premium for their organic products. For listings of local farmers markets and other sources, go to www.localharvest.org or www.ams.usda.gov/farmersmarkets.
Join a team. Look for a community-supported organic farm in your area. When you join you will get a weekly supply of produce from spring through fall. You'll pay from $300 to $500 for a family of four for the season. Go to www.sare.org for a list of farms.
By mail. National providers will ship items such as organic beef (www.mynaturalbeef.com). Some local businesses, such as FreshDirect (www.freshdirect.com) in the New York City area and Pioneer Organics (www.pioneerorganics.com) in the Pacific Northwest, offer home deliveries. Other helpful sites are at www.eatwellguide.org and www.theorganicpages.com.
Have something to say about this article? Leave your comment via Facebook below!
advertise with us
Example: "Gen 1:1" "John 3" "Moses" "trust"
Advanced Search
Listen to Your Favorite Pastors