Frugality Pays Off
Whitney Hopler, Live It Editor
Thursday, November 01, 2001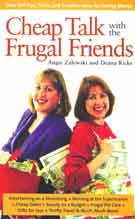 Job layoffs, plummeting stocks, and consumer uncertainty are just a few of the current signs of our sluggish economy and wartime stress. In today's economic climate, many people are thinking about saving money however they can. And frugality will prove valuable at any time.
Here are some creative ways you can save money:
When grocery shopping, make a list and stick to it. Research which stores have the lowest prices on the items you need and go to them rather than being loyal to one store. Analyze your receipts to see how you're spending your money and what you can do differently (for example, buy fewer convenience foods). When you're in the store, look for items on the lowest and highest shelves, since the most expensive items are usually placed at eye level. Calculate the cost per unit of the items you're buying. Buy store brands, which are often just as good as name brands. When checking out, watch the clerk scan in your items to ensure that the prices are accurate.
Strive to reduce food waste as much as possible when cooking. If a particular item is about to expire, you can freeze it if you can't use it right then. Consider how you can substitute less expensive ingredients in your recipes and achieve the same - or even better - taste and nutrition.
Before you throw things away, think about how you might recycle them to serve you in another capacity. For example, many household items can be used again as free toys or craft supplies for your child.
Look for functional items that others have thrown away but that could prove useful to you. Your office might be upgrading to new computers and have old hardware or software available; a neighbor may be redecorating and set a perfectly good sofa out on the curb for trash pickup.
Visit garage sales regularly for bargains. Check the classified section in the Friday edition of your local newspaper to find out where each Saturday's garage sales will be held so you can plan your route. Show up early for the best selection.
Develop a network of friends and family through which you can share children's items such as clothes and toys. Start out by contributing your child's gently used items to another parent. Be gracious about accepting items that others offer you. Let others know what specific items you're searching for.
Adopt a pet who needs a home through a shelter, animal rescue organization, or other source that doesn't sell pets. When buying products your pet needs - such as a pillow to sleep on - consider buying a similar item that's marketed to people, since products marketed directly for pets are often overpriced and a human version of the product could often serve just as well.
Rather than taking a vacation, try taking some time off from work simply to relax and enjoy leisure pursuits at home. Or take day trips to eliminate expensive lodging costs. If taking a longer trip, research your destination well, and decide in advance what you truly would like to do. Find out about available discounts. Consider destinations such as national parks that offer great excitement, yet low prices. Travel during your destination's off-season to take advantage of the best prices. Whenever possible on vacation, visit local grocery stores to buy and pack your own food (especially for breakfast and lunch) rather than eating out. When flying, offer to be "bumped" off your flight to another, later one. That will often earn you free trip vouchers.
When you host a party, limit your guest list and consider serving hors d'oeuvres or dessert rather than a full meal. Don't feel pressure to fill every moment with activities; allow free time for guests to talk with each other. For music, consider using a library CD or hiring student musicians rather than professional ones.
Give non-material gifts, such as time, acts of service or words of praise. These gifts will bless recipients as much as the gifts you can purchase in stores.
Have something to say about this article? Leave your comment via Facebook below!
advertise with us
Example: "Gen 1:1" "John 3" "Moses" "trust"
Advanced Search
Listen to Your Favorite Pastors