Godly Money Management: The Great Balancing Act
Steve Diggs, No Debt No Sweat! Financial Seminar Ministry
Wednesday, June 01, 2005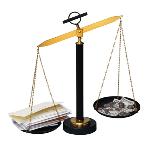 The Gift of Giving
Sooner or later you will run into some well intentioned Christian who implies that your ability to earn money is somehow less worthy than the ability to preach the Good News or serve in a foreign mission field. When that happens don't retreat into a cave feeling like a spiritual pigmy! Simply ask the good brother to tell you where he thinks the money comes from to finance great ministries, pay the missionaries' salaries, build Christian schools, and feed the hungry. Then, flip over to this spot in Romans 12:3-9:
"For through the grace given to me I say to every man among you not to think more highly of himself than he ought to think; but to think so as to have sound judgment; as God has allotted to each as a measure of faith. For just as we have many members in one body and all the members do not have the same function, so we, who are many, are one body in Christ, and individually members of one another. And since we have gifts that differ according to the grace given us, let each exercise them accordingly: if prophesy, according to the proportion of his faith; if service, in his serving; or he who teaches, in his teaching; or he who exhorts, in his exhortation; he who gives, with liberality; he who leads, with diligence; he who shows mercy, with cheerfulness." (NASV, emphasis mine)
Here, Paul lists seven spiritual gifts. Many Bible teachers believe that all Christians are blessed with at least one of these gifts. If these gifts are distributed throughout the community of believers-then the fellowship will be strong and healthy. The fifth gift in this list is the gift of liberality. (The New King James Version translators render it by saying that if his gift "is contributing to the needs of others, let him give generously.") Well, excuse me, but doesn't it just make common sense that if one gives liberally-he first has to have something to give? And, in order to have something to give, it is reasonable to assume that this individual probably is good at making and investing money.
The Critical Balance
Please remember this: If we allow anything to get between God and us, we are in trouble. In today's materialistic, money driven society Christians must be cautious. The culture tells us that our value and worth is based on our wealth and clout. All around us we see friends, co-workers, and even other Christians who have built lives focused on acquiring the stuff of this present world.
One of the places in Scripture that always makes me tremble when I read it is the parable of the sower in Matthew 13. Here Jesus analogizes the way five groups of people respond to God's message by comparing them to various types of farmland soil. One of the soil types was thorny ground. Speaking of this person, Jesus says this "is the man who hears the word, but the worries of this life and the deceitfulness of wealth choke it (the word), making it unfruitful." (verse 22, NIV, emphasis mine)
Wealth can be a blessing from God, but it is also a burden. With money comes responsibility. Jesus warns us that "from everyone who has been given much shall much be required; and to whom they entrusted much, of him they will ask all the more." (Luke 12:48b, NASV)
Christians with money have temptations and spiritual battles that other people don't face: "How much is too much?" "How will I teach my children not to love and trust money?" "Where is my own faith: In God, or in money?" "How can I avoid elitism, and remain close to hurting people?"
As long as you're struggling with questions like these you're probably doing pretty well. Remember, Jesus tells us to store our treasures in heaven. The truth is: The guy who dies with the most toys is still dead.


Steve Diggs presents the No Debt No Sweat! Christian Money Management Seminar at churches and other venues nationwide. Visit Steve on the Web at www.stevediggs.com or call 615-834-3063. The author of several books, today Steve serves as a minister for the Antioch Church of Christ in Nashville. For 25 years he was President of the Franklin Group, Inc. Steve and Bonnie have four children whom they have home schooled. The family lives in Brentwood, Tennessee.


Have something to say about this article? Leave your comment via Facebook below!
advertise with us
Example: "Gen 1:1" "John 3" "Moses" "trust"
Advanced Search
Listen to Your Favorite Pastors