Hope for Single Parents and Their Finances
Laura Petherbridge, TheSmartStepmom.com
Thursday, July 05, 2012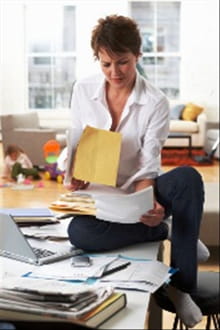 Editor's note: This article originally appeared on laurapetherbridge.com.
Single parent families are often faced with lower incomes and more stress than two-parent families. The fact that there is only one adult in the household and no one to seek counsel from can be discouraging. Debt, childcare, home maintenance, and auto repair, can crunch a budget. And often little or no child support can leave the single parent feeling that their situation is hopeless. Thoughts of how to fund college for your children only adds to the frustration.
There is much a single parent can do to keep from being eaten by the "financial dragon." And with careful planning, creativity, and research, children from a single parent family can obtain an excellent education. The enemy would like you to believe that your kids will be forever cursed with poverty and low paying jobs, but God wants to assure you that He has a plan for your family…and it's a good one!
Here are some practical steps.
1. Learn
The first and most important step is for you as the head of your home is to receive Biblical teaching on what God says about money and possessions. Ask your church about classes that teach Biblical financial principles. There are seminars and books that can help, but the accountability that comes from a small group offers an incomparable dynamic. Seek a program that provides Biblical instruction as well as practical application of budgeting.
If your heart is willing He will teach you how to surrender everything you owe, and own to Him. So often we pray for God to send us money to pay a bill, but we haven't sought his Word on how to properly handle what He has already given to us. Your children are watching how YOU manage your money. By example, teach your children that God's methods for providing are supreme, and way beyond anything imaginable. He owns it all, and longs for us to seek His guidance.
"Everything in the heavens and earth is yours Oh Lord, and this is your kingdom. We adore you as being in control of everything."
2. Teach Your Children
Conduct an age appropriate children or teen Bible study on finances with your children. As they examine God's word they will be amazed at how practical He is. Many resources offer this information in a story format so young kids learn how to apply the teachings to everyday life. Our children are bombarded with materialism, and they need to understand that this is the world's way of filling an empty hole in the heart. It's our job to teach them this creates a bigger hole!!
For teens and older kids use a resource that explains practical issues such as how to open checking/saving accounts, how to go on a job interview, etc. Helping them to plan for the purchase of a car or an item they crave places motivation and real life into the teaching.
"Steady plodding brings prosperity, hasty speculation brings poverty."
Proverbs 21:53. Practical Application - The Budget
People often view budgeting as restrictive. In reality it's the opposite. A budget helps you to comprehend where the money is going and what's needed to make ends meet. Recognizing the most common budget busters and how to prepare for them is often the best way to avoid overspending.
Have something to say about this article? Leave your comment via Facebook below!
advertise with us
Example: "Gen 1:1" "John 3" "Moses" "trust"
Advanced Search
Listen to Your Favorite Pastors