Hope for Single Parents and Their Finances
Laura Petherbridge, TheSmartStepmom.com
Thursday, July 05, 2012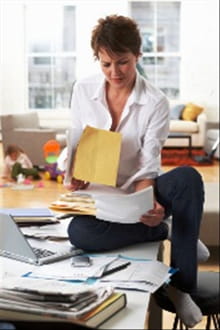 If this seems overwhelming, ask your church for the name of a knowledgeable person who can provide one-on-one counsel. There are many people with expertise in this area that would be happy to assist. A caution here: what annoys most budget counselors is someone who expects them to provide a "quick fix" to all your financial problems. It takes time and staying steady to the course to see results. Making a commitment to follow through on your plan is the key to success.
"A wise man saves for the future a foolish man spends whatever he gets."
Proverbs 21:204. Partnership
Have your child participate. We tend to appreciate the things we sacrificed or contributed to having. Starting early, instruct your children that they are expected to save toward an education. Unfortunately, this is the opposite of what they will hear at school. In the USA we have come to believe that it's our "right" to acquire an education. I personally believe an education is a privilege, and one that we should be thankful for and willing to sacrifice to obtain.
A child should also save a portion of his or her allowance, birthday money, Christmas money, etc. as this helps them to understand and feel proud of the contribution they have made to their future.
"From the fruit of his lips a man is filled with good things as surely as the work of his hands rewards him." Proverbs 12:14
5. The Right Education
Many people spend thousands of dollars on the wrong education, and end up in a job that they hate. As early as 13 yrs. old help your child look into studies and programs that help him or her understand their giftedness.
"Youth often choose an occupation out of ignorance or choose based on the current trends and values of society" (Finding the Career That Fits You, Ellis/ Burkett.). When asked what career a teen desires they frequently say, "I want to make a lot of money." However, if a child is unfocused they are more likely to flunk out of school, constantly change majors, and waste money on an education that was the wrong choice for them.
Choose a career guidance program that gives insights into personality, vocational interests, abilities, priorities, and spiritual giftedness. Career Direct through crown financial ministries is an excellent resource.
"For we are God's workmanship, created in Christ Jesus to do good works, which God prepared in advance for us to do."
Ephesians 2:106. Financial Assistance for Education
Begin to research creative ways to send your child to college without going into debt. Financial aid in the form of scholarships, and grants are available in many cases. Most states have funds available to students. Qualifying for assistance is often a function of the student's academic performance in high school. Thus, instilling a solid work and study ethic in your child can pay financial dividends when it comes time to apply for financial help.
Creativity and diligence can pay off when seeking financial aid. Don't overlook the possibility that your employer may offer scholarships. By the same token, many employers offer assistance to students who work for them. Your church may also have a scholarship program.
Attending a community college or junior (2 year) college can be a lower cost alternative, and most of the time credits are transferable to a four year school. A trade school may be a wise choice if a career assessment suggests it. And your state's four year school may offer quality educate at a lesser cost. Again, grades are important as competition for placement in such schools can be intense.
Have something to say about this article? Leave your comment via Facebook below!
advertise with us
Example: "Gen 1:1" "John 3" "Moses" "trust"
Advanced Search
Listen to Your Favorite Pastors