Hope for Single Parents and Their Finances
Laura Petherbridge, TheSmartStepmom.com
Thursday, July 05, 2012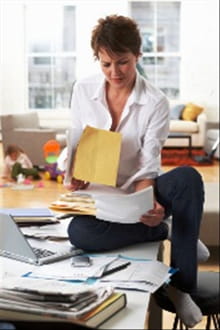 Remember, the goal should not be to have a diploma on the wall, but rather good training for a career that will provide financially. And a job that brings personal fulfillment.
Most schools also offer on campus employment or a data bank that will assist students in finding off campus employment both during the school year and in summer. Don't forget co-op programs that may be offered at many schools. This gives a student the opportunity to gain practical work experience in their field of choice and earn money and academic credit.
With some planning, persistence, and hard work, a quality education without the burden of debt can be attainable.
I wish I could say this story is rare, but unfortunately it isn't. I've met numerous men and women who have the mistaken belief that leniency, or codependency, is an act of love. And the results are often as devastating.
When we don't allow a person to suffer the consequences of sinful or poor choices the destruction continues. Co-dependency is rampant because it feels like compassion, but there lies the myth.
Allowing someone to suffer a painful consequence for a poor choice is often the most loving thing we can do. Do you doubt that? Did God allow Adam and Eve, Moses, King David, and Jonah to experience a painful consequence when they made a poor choice? He did, and love was His motive.
Pat Springle in his book, twelve step program for overcoming codependency shares this definition, "A compulsion to control and rescue people by fixing their problems. It occurs when a person's God-given needs for love and security have been blocked in a relationship with a dysfunctional person, resulting in a lack of objectivity, a warped sense of responsibility, being controlled and controlling others."
I'm an expert on this topic. Since childhood I've had a people-pleasing, warped sense of responsibility. Fortunately, I've learned how to recognize and tackle the problem.
Some classic tendencies of a rescuer (or enabler) are that they:
feel guilty saying no.
sense dread, fear, or anger if not in control of a situation.
fear what others think of them.
desire to solve other's problems and make excuses for terrible behavior.
fear retaliation or removal of love if non-compliant.
allow people to speak to them in a disrespectful manner.
attempt to control others.
The good news is there is hope. God is more than willing to help you, as He did me, to confront and overcome this obstacle.
Laura Petherbridge serves couples and single adults with topics on spiritual growth, relationships, stepfamilies, co-parenting, and divorce recovery. She is an international speaker and author of when "i do" becomes "i don't"—practical steps for healing during separation and divorce, and the smart stepmom, co-authored with stepfamily expert Ron Deal and endorsed by Gary Chapman (five love languages). Laura has spoken at the Billy Graham Training Center The Cove in Ashville, the Hearts at Home conferences, and on Focus on the Family and many other TV and radio broadcasts in many countries. Laura is a featured expert on the divorcecare DVD series, which has equipped more than 12,000 churches worldwide. She has taught on divorce recovery at Reformed Theological Seminary in Orlando, and functioned as a Stephen's Ministry instructor. Laura and her husband of 26 years, Steve, reside in Florida. She can be reached at laura@laurapetherbridge.comand www.thesmartstepmom.com.
Publication date: July 5, 2012
Have something to say about this article? Leave your comment via Facebook below!
advertise with us
Example: "Gen 1:1" "John 3" "Moses" "trust"
Advanced Search
Listen to Your Favorite Pastors