How Should We Manage Our Debts?
David Cowan, Author, Economic Parables
Thursday, September 25, 2008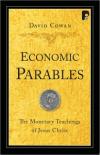 Editor's Note: The Following is an excerpt from Economic Parables by David Cowan (Authentic Books)

The Parable (Matthew 18:21-35)
Then Peter came to Jesus and asked, "Lord, how many times shall I forgive my brother when he sins against me? Up to seven times?"
Jesus answered, "I tell you, not seven times, but seventy-seven times."
"Therefore, the kingdom of heaven is like a king who wanted to settle accounts with his servants. As he began the settlement, a man who owed him ten thousand talents was brought to him. Since he was not able to pay, the master ordered that he and his wife and his children and all that he had be sold to repay the debt.
"The servant fell on his knees before him. 'Be patient with me,' he begged, 'and I will pay back everything.' The servant's master took pity on him, canceled the debt and let him go.
"But when that servant went out, he found one of his fellow servants who owed him a hundred denarii. He grabbed him and began to choke him. 'Pay back what you owe me!' he demanded.
"His fellow servant fell to his knees and begged him, 'Be patient with me, and I will pay you back.'
"But he refused. Instead, he went off and had the man thrown into prison until he could pay the debt. When the other servants saw what had happened, they were greatly distressed and went and told their master everything that had happened.
"Then the master called the servant in. 'You wicked servant,' he said, 'I canceled all that debt of yours because you begged me to. Shouldn't you have had mercy on your fellow servant just as I had on you?' In anger his master turned him over to the jailers to be tortured, until he should pay back all he owed.
"This is how my heavenly Father will treat each of you unless you forgive your brother from your heart."
The Reflection
Have you seen that great Lending Tree ad on TV, where a guy is driving around a large yard on his lawn tractor, telling us all the great things he owns? At the end of the ad he asks the viewer, "How can I afford all this?" Then he looks directly into the camera and says cheerfully through gritted teeth, "Because I'm in debt up to my eyeballs. I can barely pay my finance charges. Somebody help me!"
Debt is something that, in varying measures, nearly all of us have. We may have a mortgage, a car loan, credit card balances, or many other kinds of debt. The value of debt is that it can be used to leverage our earnings and investments—by financing big items and freeing up our monthly income for other things while some of the big items accrue in value beyond their original costs. A good example is our house and the improvements we make to it through financing loans, which enables us to use debt to increase our financial security and overall worth. However, debt can also be a liability that contributes to the loss of value in our investments, such as when a crash in the housing market occurs.
In the business world in general and on Wall Street in particular, debt is part of managing money. Governments and corporations issue bonds and stocks on the basis of their reputation. These are essentially debts that governments and companies create by borrowing money on the money markets. They have assets that they leverage by inviting investors to risk that they will not fail. This is why governments are the biggest borrowers because governments are considered too big to fail. Debt is issued to fund new research, projects, and expansion.
Have something to say about this article? Leave your comment via Facebook below!
advertise with us
Example: "Gen 1:1" "John 3" "Moses" "trust"
Advanced Search
Listen to Your Favorite Pastors