How to Discover God's Abundance When You're Broke
Whitney Hopler, Crosswalk.com Contributing Writer
Wednesday, April 30, 2014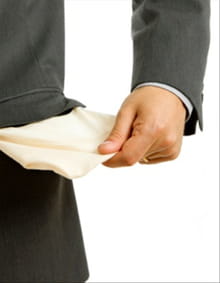 Editor's Note: The following is a report on the practical applications of Caryn Rivadeneira's new book Broke: What Financial Desperation Revealed about God's Abundance (InterVarsity Press, 2014).
Financial pressures – from unemployment to unexpected bills – can cause a tremendous amount of stress in your life. When you don't have enough money, you're not just broke, but also broken from the stress of living in a financial crisis.
Something surprising can happen when you're broke, however. When you seek God in your brokenness, you can find riches that go beyond money, enriching your soul even if your bank account runs low. Here's how:
Look beyond how God answers your prayers to his presence with you. Although God may not be answering your prayers for financial provision the way you'd like right now, you can count on the fact that God is with you nevertheless. Make an effort to notice the various signs of God's constant presence in your life. Pray for the Holy Spirit to help you sense God's presence with you so you can feel comforted by it.
Discover the meaning of praying for daily bread. You may think about the famous phrase "give us this day our daily bread" from the Lord's Prayer when you're praying for God to provide the money you need to live each day. Realize, though, that praying for daily bread isn't so much about receiving the actual thing you need – money – as it is about deepening your trust in God, who faithfully provides whatever you need. By inviting God to meet your needs rather than trying to meet them apart from God, you're building a closer relationship to God that will lead to blessings you couldn't imagine asking God for, but which he gives you unexpectedly as rewards for seeking him.
Embrace the mystery of how God works. God may not choose to tell you why he has allowed you to go through a financial crisis, or when or how he plans to lead you out of it. But if you embrace the mystery of your situation, you'll be motivated to keep seeking God, and in the process he will strengthen your faith.
Be open to make whatever lifestyle changes God calls you to make. If you sense the Holy Spirit's nudging to do something specific that can significantly improve your financial situation – such as selling items you don't need, switching your kids from private school to public school, or taking on a side job to earn extra cash – be ready to say "yes" to whatever God calls you to do.
Confess and repent of your financial sins. Honestly consider how you've made mistakes or been selfish with financial decisions that have impacted your current financial crisis. In prayer, confess any sins that have affected your finances, and repent of them by committing to change your habits as God leads you to do so (such as cutting back on the amount of money you spend each month, or creating a plan to pay off your debt).
Learn from the suffering that God allows you to go through. Trust God to redeem whatever suffering he lets you go through while you're broke to accomplish valuable purposes in your life. Let your pain lead you to contemplate the Cross, where Jesus' sacrifice for humanity's sins showed how God's love redeems all suffering. As you pray to Jesus for wisdom, you'll learn whatever God wants to teach you through the suffering that your financial crisis has brought into your life.
Have something to say about this article? Leave your comment via Facebook below!
advertise with us
Example: "Gen 1:1" "John 3" "Moses" "trust"
Advanced Search
Listen to Your Favorite Pastors