Is Online Bill Paying Safe?
Mary Hunt, The Cheapskate Monthly
Friday, September 03, 2004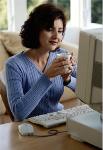 You can arrange to receive and pay your bills online. And you can send payments to almost anyone you can write a check to-your dentist, your phone company, even your child in college, in just the same way you would send a paper check. And if the person or company is not set up to receive payments online, they will receive a paper check in the mail sent by your bank on your behalf.
To learn more details for how online bill paying works through a bank, go to www.citibank.com and click on Products and Services and then on "Bills and Payments" and www.bankofamerica.com, "Online with Bill Pay" under Account Services.
Banks are anxious for their customers to use online bill paying because customers who use this service are less likely to overdraw their accounts, stay with their banks longer and have higher balances. It's just good business and most all banks and credit unions are jumping onboard to offer this service.
Pay the company directly. Many utility, electric, phone, mortgage and cable TV companies now allow you to pay them directly via their websites. You can pay by credit card or automatic debit directly from your checking account.
Even if you do not intend to use this service on a regular basis, you might want to see what your service providers offer. You may be surprised just how easy this is. Keep it as an option in the event you find yourself running late one month. You may be able to pay online to avoid a late fee.
Pay through an intermediary. There are companies like PayTrust that will become your agent in receiving and paying your bills. When you sign up for an intermediary service, you change your billing address from your home to the online company's address, where all of your bills are sent. Now instead of you paying your bills directly, you instruct your agent to pay them and debit the amount from your checking account. And if your lawn service, for example, doesn't accept online payment the intermediary sends a paper check.
PayTrust, like most intermediaries, guarantees its service and takes responsibility for any late fees or credit issues that may occur due to any system errors on their end.
While signing up with an inter-mediary is somewhat more costly, the benefits are significant and warrant your further investigation. Go to www.paytrust.com and click on "Learn more."
Pay through an Internet portal. Websites including Yahoo!, MSN and Quicken act as Web portals for online bill payments to hundreds of entities. And most of them offer the service for free for limited services.
Here is an example: Quicken partners with 250 different merchants and companies for its online Bill Pay service and charges consumers $9.95 a month for up to 20 payments, with a $.50 per transaction cost for each additional payment.
Many Internet portals used to cut paper checks to pay your bills meaning you would have to request payment well in advance of your due dates. But now they make electronic payments which decreases that time frame.
Each portal handles bill paying a little differently, so you need to check out each one, if for no other reason than to learn all of your options.
Yahoo! Log on to www.yahoo.com. Scroll down to the bottom of the home page and look for Personal Finance then click on "Bill Pay." Now you will see an option to "Take a tour." Do that.
Have something to say about this article? Leave your comment via Facebook below!
advertise with us
Example: "Gen 1:1" "John 3" "Moses" "trust"
Advanced Search
Listen to Your Favorite Pastors