Is Online Bill Paying Safe?
Mary Hunt, The Cheapskate Monthly
Friday, September 03, 2004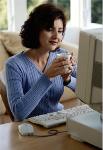 MSN. Log on to www.msn.com and click on Money in the second section of menu items on the left. Now look down to find Banking and Loans, then Bill Pay. You can also take a tour of this service. MSN offers two levels of online bill paying-Premium and Standard with monthly fees ranging from $2.95 to $5.95 per month, with conditions.
Quicken. You may recognize Quicken as the software provider, and while you can pay your bills online using your Quicken software that also manages our checking account, you can skip the software and now use Quicken Bill Pay through its Internet portal. Log on to www.quicken.com and click on Quicken Bill Pay on the right. One advantage of Quicken is that it allows you to make payments from up to ten different bank accounts. The monthly cost is about $9.95. Quicken offers your first month free. Quicken guarantees on-time payments or they'll reimburse your late fee up to $50, if your payment arriving late was their fault.
America Online. AOL Bill Pay, offered to members at no extra charge, is provided through an AOL alliance with Yodlee.com, a company specializing in online personal finance services.
AOL members (only U.S. members at this time) who sign up for AOL Bill Pay receive summaries of their online bills through AOL email messages, from where they can link directly to the supplier websites to make their payments. See your AOL membership site for full details.
Advantages
Let's start with the environment. A report from Wells Fargo says that if everyone in the U.S. paid their bills online, 18.5 million trees would be saved each year. That represents enough lumber to build 216,000 single-family homes. Not a bad advantage.
A more personal advantage of online bill paying is the way it organizes your finances. You can see at a glance which bills you've paid and when you paid them. And in the event you need proof of payment, you have it on a moment's notice. You can see at a glance what you've paid and when you paid them.
You can select your bill payment dates, create a log of your regular payments and make multiple payments at one time if you wish. You don't lose control with online bill paying, you gain control. And a sense of personal pride because your finances are so much more orderly.
Some services allow you to set an "alarm" which alerts you when your account drops to a level you determine so as to avoid overdrafts.
Possibly the greatest benefit of online bill paying is the matter of on-time payments. When you drop your mortgage check into the mail you cannot assume your payment has been made on time. Lots can happen between that moment and when it is certified as received by your lender. Online bill paying can shorten significantly the time between sending and receiving. If online bill paying saves you even one late fee, you're way ahead financially.
Pitfalls
Security should be your biggest concern when it comes to online banking. Never use a public computer or a "hot spot" wi-fi connection for financial transactions. Make sure you keep your anti-virus up-to-date. Run Windows Update regularly to keep current on the latest security patches.
Whether you bank online or offline, you need to access your bank account regularly (daily if possible) to review all transactions. If you do not recognize a charge, report it immediately. Your bank is under no legal obligation to provide a refund or remedy after 60 days.
Have something to say about this article? Leave your comment via Facebook below!
advertise with us
Example: "Gen 1:1" "John 3" "Moses" "trust"
Advanced Search
Listen to Your Favorite Pastors