Money, Purpose, Joy
Matt Bell, Author
Wednesday, September 23, 2009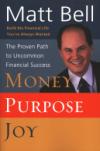 EDITOR'S NOTE: The following in an excerpt from
"Money, Purpose, Joy: The Proven Path to Uncommon Financial Success"
by Matt Bell (NavPress).
Wandering from Home
After one of my first financial workshops, in which I shared part of my journey, a participant approached me with a question and casually referred to my "prodigal son story." Until then, I hadn't made the connection. That night, as I reread the biblical story of the prodigal son, I was amazed at how similar it was to my own story.
There was a man who had two sons. The younger one said to his father, "Father, give me my share of the estate." So he divided his property between them.
Not long after that, the younger son got together all he had, set off for a distant country and there squandered his wealth in wild living.
Three years after graduating from college, I received an inheritance of $60,000 from an uncle. At the time, I was earning around $25,000 a year working as a freelance radio journalist. When I received the unexpected check for more than twice my annual income, I felt as if I'd won the lottery. I saw the inheritance as an incredible, once-in-a-lifetime opportunity.
I decided to use the windfall to create my dream job. I wanted to be one of those rare people who actually looked forward to Mondays. I took a quick inventory of the things I most enjoyed; golf and travel topped the list. Then I stirred in my profession of journalism and came up with the idea of writing a newsletter for people who take golf vacations. What could be better than trekking around the world, traveling from resort to resort, reporting on the best places to play? I bought some desktop publishing software, took out an ad for the newsletter in a golf magazine, booked my first trip, and Links Review was born.
Once a month I traveled to a beautiful vacation spot to review, photograph, and, of course, play the best golf courses in the area. I went to Puerto Rico; southern Spain and Portugal; Orlando, Florida; Pinehurst, North Carolina; and the Pebble Beach/Carmel area of California. Stories about my newsletter appeared in publications such as Golf Magazine and the Chicago Sun-Times. When I was home, I used my newfound wealth to enjoy the better restaurants Chicago has to offer and to buy clothing from the city's higher-end shops. I looked the part of a successful, young entrepreneur. Never mind that my newsletter had few paid subscribers. That seemed like a minor detail since I had what felt like an endless supply of money in the bank. So I kept traveling, writing, and enjoying myself. The entrepreneurial life was everything I dreamed it would be — except profitable.
After he had spent everything, there was a severe famine in that whole country, and he began to be in need. So he went and hired himself out to a citizen of that country, who sent him to his fields to feed pigs. He longed to fill his stomach with the pods that the pigs were eating, but no one gave him anything.
I soon discovered that when you spend a lot more than you make every month, even when you start with a healthy cash cushion, it doesn't take long to get in a jam. Two years after receiving the inheritance, I was in financial trouble. Deep trouble. Not only had I squandered the $60,000 but I'd spent so much more — $20,000 more — that I could not make the minimum payments on my credit cards while still paying for food and rent.
When he came to his senses, he said, "How many of my father's hired men have food to spare, and here I am starving to death! I will set out and go back to my father and say to him: Father, I have sinned against heaven and against you. I am no longer worthy to be called your son; make me like one of your hired men." So he got up and went to his father.3
Have something to say about this article? Leave your comment via Facebook below!
advertise with us
Example: "Gen 1:1" "John 3" "Moses" "trust"
Advanced Search
Listen to Your Favorite Pastors