Money, Purpose, Joy
Matt Bell, Author
Wednesday, September 23, 2009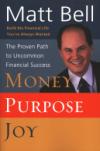 As I began realizing the depth of my financial problems, my parents sensed that all was not right and asked me to come see them for a little chat.
While he was still a long way off, his father saw him and was filled with compassion for him; he ran to his son, threw his arms around him and kissed him.
The son said to him, "Father, I have sinned against heaven and against you. I am no longer worthy to be called your son."
But the father said to his servants, "Quick! Bring the best robe and put it on him. Put a ring on his finger and sandals on his feet. Bring the fattened calf and kill it. Let's have a feast and celebrate. For this son of mine was dead and is alive again; he was lost and is found." So they began to celebrate.
My parents didn't hold a celebration in my honor, but they graciously invited me to move in with them in order to help me turn my situation around. I will always be grateful for their support. I don't know what I would have done otherwise. However, to go from the good life I was living to residing in my parents' basement in the small town where I grew up? That was brutal.
For two months of what would become a six-month stay, I was depressed. I looked forward to the nighttime, when I could close my eyes and sleep. I wanted to forget about the way I had mismanaged my uncle's money and wasted the chance to live my dream. I dreaded the coming of each new day, when I had to face the reality of my situation. Over and over I reminded myself of the obvious: I didn't know the first thing about managing money. Anyone who could take $60,000 and turn it into negative $20,000 was not exactly a money-management genius.
A New Beginning But hitting bottom became a catalyst for some positive changes in my life. First, I became motivated to learn how to manage money well. I devoured every personal-finance book and magazine I could get my hands on, and I've been studying the topic ever since.
Second, I started thinking about the big questions of life: What's my purpose? Where do I go from here? Right about then, I received a phone call that marked the beginning of a life-changing spiritual journey. Wayne and I had been in the same broadcast journalism program in college, and we had worked together at a public radio station while we were students. I graduated a year ahead of him and moved out of state for a job, and we fell out of touch. When Wayne heard that financial problems had led me to move back home with my parents, which wasn't far from where he lived, he gave me a call. Unknown to me, during his last year in college, Wayne's faith had become the center of his life.
I grew up in a family that rarely went to church. My father was a nonpracticing Jew, my mother a nonpracticing Catholic. Even though my father had told my mother he would not marry her if she insisted on raising their children as Catholics, she somehow passed down to me her basic beliefs. I grew up believing that Jesus is the Son of God and in heaven. But that's about as far as it went; those beliefs had little influence on how I lived my life.
When Wayne and I got together to talk, I'll never forget his stark conclusion about the mess I'd made of my finances: "The more you've leaned on your own understanding, Matt, the more things haven't worked out so well." He also offered a few hopeful comments, such as, "God has a plan for your life." As I thought about it, I had to agree with his first statement, and his second one intrigued me. I had no idea what might be next, so the suggestion that someone did know got my attention. My respect for Wayne, his passion for his convictions, my circumstances, and the notion that there may be some plan for my life made me want to learn more about matters of faith. While maintaining the skepticism of a journalist, I began reading the Bible. I even started going to church.
Have something to say about this article? Leave your comment via Facebook below!
advertise with us
Example: "Gen 1:1" "John 3" "Moses" "trust"
Advanced Search
Listen to Your Favorite Pastors