Paul's Advice to the Rich
Steve Diggs, No Debt No Sweat! Financial Seminar Ministry
Thursday, September 01, 2005
Equally dangerous is the tendency to trust in money. Despite the phrase on our money that says "In God We Trust," the cold, hard fact is that most people trust more in the money than they do in God. Money is deceptive. We become convinced that with enough of it all our problems will go away. Be honest, haven't you ever fantasized about receiving a huge inheritance or winning a big sweepstakes and, never having to worry again?
Satan tells us that with enough money we can buy our way out of every problem, hedge against every risk, and insure for any catastrophe. So, we buy the lie, and gradually rid ourselves of any perceived need for God. This may be why Paul points out in the first letter to the Corinthians that not many wise, influential, or noble will come to Jesus.i They have glutted themselves on all the goodies and pleasures this world has to offer. They have "put their hope in wealth" and convinced themselves that they just don't need God.
3) But, now Paul turns his attention to the positive side of wealth. Without any explanation or apology Paul says that it's okay to have nice things. He says that God provides us with "everything" (presumably this includes financial blessings) for our enjoyment! Wait a minute, Paul. Are you saying that it's not only okay to have money but, that it's also okay to spend some of it on ourselves and have a good time? YES!!! Contrary to popular belief, our God is not a god of austerity and scarcity. Our Father has an abundance. And, if He has blessed you with financial resources, it's all right to enjoy His blessings!
4) Paul's last directive is a positive one: "Command them to do good, to be rich in good deeds, and to be generous and willing to share." Sure it is perfectly fine to enjoy some of your wealth personally. But Paul also reminds us of the greater good we can do with our wealth. Not just as a suggestion, but also as a command, Paul tells wealthy people to do good. Then, to drive his point home, he turns the phrase and tells rich people to "be rich" not just in money-but in good deeds. Instead of just being known for their wealth, they should also be known for their good deeds-their readiness to share what they have.
One of my heroes is a man named Bob Nash. Bob is low-key and sort of bashful. He would be the last person in the world to brag about himself. But I think he is a spiritual giant. Not because he can out-quote the preacher from the Bible, or because he has all the answers in a religious debate. No, his strength comes from a different direction.
You see, Bob has built a successful company that supplies an important service. He's spent years learning the ropes and has put in a lot of long, hard hours when he would rather have been relaxing. Because of his diligence and God's blessing, Bob has prospered financially. Today, Bob drives a nice car, wears stylish clothing, and can afford to do pretty much what he wishes. But the first thing that comes to my mind when I think about Bob Nash is his generosity. Bob is always ready to give when someone at church is hurting, or when one of our missionaries has a need, or whenever any other good work presents itself. In my mind, Bob is the man that Paul is talking about who has been blessed financially, and has become rich in good deeds.
5) Like a loving counselor, Paul seems unable to leave the topic without reminding his readers of the blessings that follow such a lifestyle. Notice how he promises that when we share our earthly prosperity we are setting aside eternal treasures in heaven.


Steve Diggs presents the No Debt No Sweat! Christian Money Management Seminar at churches and other venues nationwide. Visit Steve on the Web at www.stevediggs.com or call 615-834-3063. The author of several books, today Steve serves as a minister for the Antioch Church of Christ in Nashville. For 25 years he was President of the Franklin Group, Inc. Steve and Bonnie have four children whom they have home schooled. The family lives in Brentwood, Tennessee.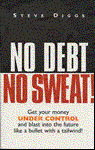 A complete financial compendium, 19 chapters
• What you can do today to get out of debt and kill the Debt Monster
• A,B,C's of handling your money God's way
• How to save, invest, and retire wisely
• How mutual funds work
• How to stop fighting over money
• What to teach your kids about money
• Learn how home & car buying, college financing and insurance work.
• How to develop a budget that works -- forever!
• Features simple charts, graphs, and easy-to-use forms.
Click here to learn more or to order.

Have something to say about this article? Leave your comment via Facebook below!
advertise with us
Example: "Gen 1:1" "John 3" "Moses" "trust"
Advanced Search
Listen to Your Favorite Pastors