How to Raise Financially Confident Kids
Whitney Hopler, Crosswalk.com Contributing Writer
Wednesday, July 11, 2012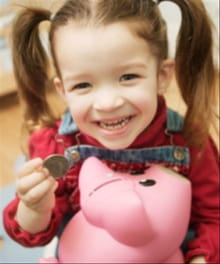 Editor's note: The following is a report on the practical applications of Mary Hunt's book Raising Financially Confident Kids (Revell Books, 2012).
You likely invest a great amount of effort into your children's spiritual and academic education. But how much have you taught your kids about managing money?
It's important to give your children a solid financial education, since money will be a vital part of their life as adults. If your kids reach adulthood without financial confidence, they'll be vulnerable to falling prey to the pressures of the advertising and credit industries, which have led too many people into lives burdened and damaged by debt. But if you teach your kids how to manage money well – while they're still living under your care – you can give them the confidence they need to live with financial freedom.
Here's how you can raise financially confident kids:
Teach your kids about giving. Explain to your kids that all the money your family has ultimately comes from God, and that God wants you all to express your gratitude and learn how to love in generous ways by giving the first 10 percent of your income regularly to His kingdom work, plus more beyond that whenever He leads you to help people in need. Talk with your kids about the various ways you support your church, charities, and other organizations or people. Let them see how the money your family gives is helping others in tangible ways. Encourage them to start giving a portion of their own money to help others as soon as they can, and to choose the specific ways in which they want to help.
Teach your kids about saving. Let your kids know that it is important to save some of the money they have for the future rather than spending it all – and if they do so faithfully, they'll never be broke. Explain the concept of compound interest to them, so they can see how much their saved money can grow over time.
Teach your kids about spending. Tell your kids that it is crucial to set spending limits to avoid the dangers of debt, and that they should never spend more than they earn. Urge them to keep track of where their money goes. Teach them how to create a budget to plan how best to spend money each month. Encourage them to distinguish between what they want and what they need. Show them how to shop wisely and buy only what they've planned to buy. Help them create and maintain a budget. Model a healthy spending lifestyle to them by living below your means as a family. Let them know that you can afford to buy more, but are choosing not to spend on what you don't really need and to make thoughtful decisions about what you want. Limit the time you spend shopping and invest your family's time into more productive activities. Counteract attitudes of entitlement by expressing gratitude on a regular basis and encouraging your kids to do the same.
Teach your kids about borrowing and credit. Explain to your kids the importance of avoiding borrowing money if all possible, because the interest they will have to pay on borrowed money is rarely worth it. Let them know that it's wrong to ever take out unsecured debt. Teach them that they should never borrow money for something that will lose its value quickly or be used up in less than three years, and that they should repay any money they've borrowed as soon as possible. Aim to live a debt-free life as soon as you can so your family can enjoy the benefits and your kids can experience the wonderful freedom that comes with a debt-free lifestyle. Avoid credit card debt by paying your balance in full each month, and pay off any other debts (such as your mortgage and car payments) as quickly as possible. Neutralize the glamour of credit card marketing pitches by talking with your kids honestly about the many pitfalls of using credit (such as high interest rates) and the benefits of simply using cash. Explain what a credit report is and why it will be important for them to check the accuracy of their credit reports as adults. Recommend that your kids have only one credit card that they use to build a solid credit history (never as a tool to buy things they don't have the money available to pay for). Explain that they won't really own what they buy on credit until they fully pay their bills.
Have something to say about this article? Leave your comment via Facebook below!
advertise with us
Example: "Gen 1:1" "John 3" "Moses" "trust"
Advanced Search
Listen to Your Favorite Pastors