Saving Money When I'm Barely Afloat?
Crystal Paine, MoneySavingMom.com
Monday, October 01, 2012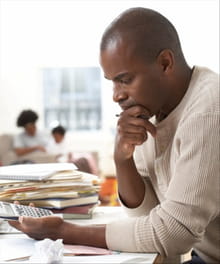 Editor's note: This article originally appeared on Money Saving Mom. Used with permission.
Is It Possible to Save Money When We Are Barely Keeping Our Head Above Water?
Recently, Audrey left the following comment on a post I'd written on my blog:
I know you talk about all these ways to save money, and anyone can do it, but it just doesn't seem possible for us! I use coupons to save money, but even then we have no wiggle room in our budget for anything. We never have. My husband makes $1400/month (sometimes $1600) after tax.
I guess I just feel discouraged a lot, because we want so badly to save money (we don't ever want debt), it just doesn't feel possible. We've been trying for four years to save money and it just gets depleted because my husband's hours get cut (which seems to happen to us a lot, no matter who he works for) and he can't find more work. Any advice or encouragement for those of us who do rent because it's cheaper, but have to use up more than half our income on our housing?
We're paying $900/month here (water, sewer and garbage included). That leaves $500/month to spend on the rest of our bills — phone, electricity, internet, etc. We don't have cable (for obvious reasons), and we have a great deal on internet and phone, and I use coupons like crazy to save money on everything, but with our two kids (3 and 1), it's just barely enough to get by (well, it's not right now, we're getting behind on bills).
I hate how broke we are all the time (and always have been). Thankfully, the only debt we have is a bill we're a couple months behind on. But we don't have a car payment (our old car is desperately in need of repairs though — I'm afraid the tires are going to fall off, but we can't afford to fix it!), we tithe, we don't have credit cards, etc. But it just seems impossible to set money aside for big purchases (or even little purchases, like getting the car fixed!).
I have no idea how to remedy this situation. I do odds and ends from home. I clean houses when I can, and that sort of thing, but that brings in an average of $25/month, and my husband is already burnt out working as often as he is. He's had no luck finding a second job (he's already working so much already), either. I'm just not sure how to get ourselves out of this hole!
-
I wish you lived closer, Audrey, and I'd have you over and give you a big hug and sit down with you over a cup of tea to try and encourage you. I know how it feels when it seems like you're working so hard and getting no traction. You're wondering how on earth the ends are going to meet at the end of the month or what you'd do if your car breaks down or how you're going to pay your utility bill.
Six years ago, that's exactly where we were. And it was really, really hard. I'd grown up being taught to trust in God, but in those first few years of marriage, the rubber met the road and I realized that actually trusting God was a whole lot harder than it sounded.
The lessons we learned during those times of feeling pretty desperate financially were so hard but, oh so good! And we wouldn't trade them for the world. It strengthened our trust in the Lord, it strengthened our marriage, it matured us as individuals, and it inspired us to learn all sorts of creative and entrepreneurial things we never dreamed we'd learn or attempt!
Here are some things which helped us to pull through that time and start making traction little by little:
Have something to say about this article? Leave your comment via Facebook below!
advertise with us
Example: "Gen 1:1" "John 3" "Moses" "trust"
Advanced Search
Listen to Your Favorite Pastors