Saving Money When I'm Barely Afloat?
Crystal Paine, MoneySavingMom.com
Monday, October 01, 2012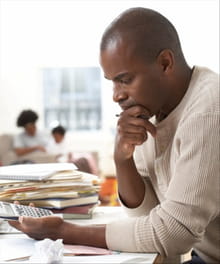 1) Pray
God delights in providing for those who trust in Him. Claim His promises. Pray His Word back to Him. Cry out to Him for provision, for wisdom, for guidance, for creativity, for open doors. Pray about the little things and the big things; nothing is too small or big for God.
And realize that He will never, never, never, no never leave or forsake you (Hebrews 13:5)!
2) Stick To Your Budget
Be very, very vigilant in adhering to your written budget. While it might seem like you're getting anywhere, sticking with your budget will ensure that you're not sliding backward or getting any farther behind than you possibly have to.
3) Realize That Your Attitude Can Make or Break the Situation
I wholeheartedly believe that you're not stuck unless you choose to be. You can always be learning, growing, improving yourself, and seeking to improve your financial situation — even if it seems that your actual income is staying the same.
Have a cheerful, grateful spirit. Focus on counting your blessings rather than all the difficult things in your life. And determine, by the grace of God, that you are going to do all you can to make the most of your situation, to stretch your resources as far as possible and to use any extra time you have in your day to increase your income.
4) Set Microscopic Goals To Begin With
No matter your income or financial situation, you can set goals, even if they are microscopic. You likely can't save $100 this month, but I'm guessing that if you squeezed, you might be able to save $2 or $5 — or maybe even $10. Start there and set this aside in a savings account as your Emergency Fund (or however else you want to designate it) and add to it each month. Over time, you just might be surprised at how it will grow!
In addition, don't just set goals for saving money, set goals for earning money, too! You said that you're usually doing around $25 per month cleaning houses. What if you were to challenge yourself to bump that number up to $35 this coming month? And then little bit, by little bit, continue to bump it up.
I also recommend setting goals for improving yourself — such as skills to learn and books to read. Choose things which will help you be able to increase your income, make wise financial choices and which will encourage you in your current situation.
As always: don't bite off more than you can chew. I'd suggest starting by setting two to four tiny goals each month. Once you accomplish those, add a few more. When you feel ready, increase the goals by a tiny little bit and then a little bit more. Setting goals — even if they are teensy-tiny — and then actually reaching them can give you enormous encouragement and you just might be amazed at the momentum it gives you!
5) Look For Any Extra Cash You Can Come Up With
What about expanding your house-cleaning business by contacting local multi-unit rentals to see if they need someone to clean their units when a renter moves out? Or making connections with realtors and asking them about cleaning foreclosed homes for them or having them recommend you to sellers who want to have their home professionally cleaned after they move out?
Think outside the box of what normal professional cleaners do and you'll likely land upon some really successful ideas. Contact business owners and offer to clean their office space. Advertise your business on Craigslist. Offer a discount to your current customers if they refer you to others who then end up using your services.
Have something to say about this article? Leave your comment via Facebook below!
advertise with us
Example: "Gen 1:1" "John 3" "Moses" "trust"
Advanced Search
Listen to Your Favorite Pastors