My Strategy For Giving Away Millions
Bob Lotich, ChristianPersonalFinance.com
Monday, November 05, 2012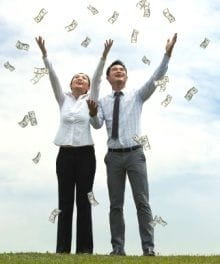 This article originally appeared on Christian Personal Finance. Used with permission.
What if we could create millions of dollars only to give it away?
How many missionaries could be supported? How many evangelistic outreaches could be funded? How many God glorifying books could be published? How many hungry could be fed? How many lost could be reached?
I believe there are lots of people who God wants to use as extravagant givers in this generation. People who will lay down their own agendas, change their pre-conceived notion of "success," and humbly obey what God has for them.
So what is it going to require?
Freedom from the love of money
I heard someone say that the reason God doesn't give everyone a million dollars is because it would destroy them. Which is probably why 1 Timothy 6:9-10 says this…
But those who want to get rich fall into temptation and a snare and many foolish and harmful desires which plunge men into ruin and destruction. For the love of money is a root of all sorts of evil, and some by longing for it have wandered away from the faith and pierced themselves with many griefs (NASB).
Discipline and Sacrifice
Looking at the wealthiest people I know I almost always see discipline as a defining characteristic in their lives. They learn how to consistenly work hard to reach a goal, whether they feel like it or not.
All discipline for the moment seems not to be joyful, but sorrowful; yet to those who have been trained by it, afterwards it yields the peaceful fruit of righteousness (Hebrews 12:11 NASB).
Obedience
I can't imagine reaching this goal without being diligent to obey God's Word and instructions…
This book of the law shall not depart from your mouth, but you shall meditate on it day and night, so that you may be careful to do according to all that is written in it; for then you will make your way prosperous, and then you will have success (Joshua 1:8)
Onto the Plan
So, as the title of the article suggests, this is my plan and outline for reaching this goal. I am sure God has different paths for each person, and as they say, there are many ways to skin a cat, and I guess the same can be said for giving away millions of dollars.
That leads us to the strategy. I realize that this will probably take many decades – I am okay with that. Sometimes God's way takes a bit longer. This is kind of a long-term plan that I am still trying to figure out how to fulfill it – but I happen to know the one who does know how.
Step 1 – Give
Giving sets things in motion. As repeated as it is, it can't be repeated enough: you cannot reap what you don't sow. If you put seeds in the ground, they will eventually yield fruit (and more seeds). If you don't sow the seeds, you don't get the fruit or the seeds. I don't understand how God's law of giving works, but I know it does work. Just like gravity – it is a law that He established that we can't really cheat – we can just learn to work with it.
"Give, and it will be given to you…" (Luke 6:38)
"Now this I say, he who sows sparingly will also reap sparingly, and he who sows bountifully will also reap bountifully. Each one must do just as he has purposed in his heart, not grudgingly or under compulsion, for God loves a cheerful giver. And God is able to make all grace abound to you, so that always having all sufficiency in everything, you may have an abundance for every good deed. Now He who supplies seed to the sower and bread for food will supply and multiply your seed for sowing and increase the harvest of your righteousness…" (2 Corinthians 9:6-10)
Have something to say about this article? Leave your comment via Facebook below!
advertise with us
Example: "Gen 1:1" "John 3" "Moses" "trust"
Advanced Search
Listen to Your Favorite Pastors