Secure Your Future Before Assisting Others
Mary Hunt, DebtProofLiving.com
Monday, April 29, 2013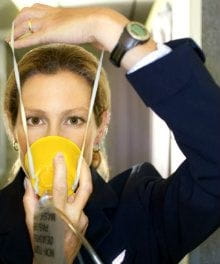 Reading the email message from Joann that recently landed in my email inbox reminded me of the safety speech flight attendants give before takeoff. If I've heard it once, I've heard it a thousand times.
"... In the event of a loss of cabin pressure, an oxygen mask will automatically appear in front of you. To start the flow of oxygen, pull the mask towards you. Place it firmly over your nose and mouth, secure the elastic band behind your head, and breathe normally. Although the bag does not inflate, oxygen is flowing to the mask.
"If you are traveling with a child or someone who requires assistance, secure your mask first, and then assist the other person."
That is an instruction with universal application because the foundational truth is just rock solid.
You cannot rescue someone who is drowning if you are injured or worse, cannot swim yourself. You can't administer first aid to another if you are bleeding to death yourself.
Joann's letter brought all of these images to mind.
"My mom is 85 years old. My dad died at an early age of 58 so she has been alone for some time. I say alone, but that is not really the case.
"Mom has raised three of her grandchildren, a great granddaughter (with my help) and now is trying to help raise a great grandson.
"Living with her currently are her grandson, his wife and their son. Her only income is a $1,200 monthly Social Security benefit. Mom is disabled and unable to work.
"Her grandson and his wife who live with her do not work. They say they are disabled and go to doctors to get prescription drugs. They are on our state's Medicaid program.
"Long story short, my mom has accrued much debt and now I am trying to help her. I have taken over her checking account and am trying to get her back in the black.
"I considered bankruptcy for her, but after researching, decided that it's not the best thing to do nor is it an easy thing. I am 67 years old, my husband still works, but all I have is my Social Security to use to try to help her. I hate that my mom has to spend the last years of her life worried about her bills and cannot enjoy even the simplest of things.
"Right now, my mom's bills exceed her income. She has borrowed money against her home, and I recently found out she has borrowed money from a finance company which charges a high interest rate.
"What would you suggest for me to do in order to get some relief for my mom? Any suggestions you may have will be appreciated."
As I reread that message my heart went out to Joann. She's trying to rescue and fix so many situations that have spiraled out of control.
Joann's mother ignored the first rule of safety. She did not assure her own financial future before attempting to assist others. Now she is drowning right along with those she tried to help.
The best advice I can give Joann is to learn from what she sees in front of her. Before she can help her mom, she must make sure her financial future is secure.
Already I see signs that Joann's attempts to help her mother, and those who have moved into the mother's home, are pulling Joann down. How can she possibly rescue all of these people when she is not wearing her "mask" or any other kind of safety equipment? She can't, and she must not allow herself to feel guilty for that.
By assisting herself first, she will eventually be able to assist others.
Until Joann and her husband have their financial situation well in control they simply cannot participate in rescuing others.
I see you nodding your head. It's not difficult to see what Joann needs to do. It's clear that her mom, out of love and concern, has managed to become a burden to her children.
I'm certain that Joann would not characterize this as a "burden," but that's what it is and I see that all over her message.
Have something to say about this article? Leave your comment via Facebook below!
advertise with us
Example: "Gen 1:1" "John 3" "Moses" "trust"
Advanced Search
Listen to Your Favorite Pastors