Six Investing Lessons I Learned at the Beach
Austin Pryor
Thursday, June 09, 2011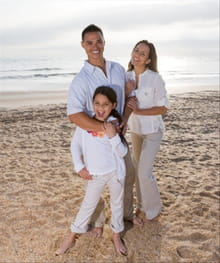 What's with the title? Okay. I admit it. I'm not thinking completely straight right now. We're only three days away from our annual departure for the Carolina beaches(!), and everything on today's "to do" list — which includes writing my final contribution for the June issue, this editorial — is colored by that happy realization.
Pretty soon, Susie and I will be at Kiawah Island with our three grown sons and their families having, if history is any guide, a really great time. Going to the beach is not only fun, it's also where I learned a lot of commonsense investing basics.
Indeed, as I approach a particular investment decision, I often ask myself: If a good time at the beach was at stake, how would that influence my decision? Whoa! That gets my attention. No more fooling around — I've gotta use sound judgment here!
For example, I've learned to...
1. …make sure the basics are covered. I can't just leave for the beach anytime I want. To help assure we can stay the course and not have to return sooner than planned, some important work must be done first.
Accommodations secured? Check. Housesitter hired? Check. Extra cash to cover unexpected expenses? Check.
If I want to have peace of mind during my trip, these tedious preparations must be made before I leave. (Ditto the financial basics, such as getting debt-free and saving for future needs, before setting off on any grand investing adventure.)
2. …devise my travel plan and stick with it. The plan: Set my GPS so I know the way. Leave on time. Drive safely. And — this is very important — don't take any unplanned detours. (What, no spontaneous stops to see Rock City?!) Now, this may sound like a boring trip to you. But the idea isn't that the drive needs to be particularly interesting. Instead, the goal is that we arrive safely and on time. (I feel the same way about reaching my retirement goals. I'll gladly trade an exciting journey for a safe and timely arrival. That means following my personalized stock/bond allocation plan, with plenty of diversification.)
3. …be patient when a tan is your goal. I don't go for those high-risk get-tanned-quick strategies. It's too easy to get burned. I've learned to keep my tanning strategy simple. All those tanning magazines, seminars, websites, and cable television programs by tanning gurus can be confusing.
Tanning really isn't all that complicated. If you follow the basics and don't try to do too much too soon, you won't go wrong.
4. …ignore short-term wave patterns. I like to read on the beach, with my low-slung chair right at the water's edge. The trick is to move my chair from time to time so I don't get soaked by the incoming waves. Although there is a trend, I've learned it's impossible to predict what a particular incoming wave will do. I may think it's going to stop three feet away only to get drenched.
Short-term, the waves are completely erratic, but longer-term they're predictable. So I've learned to plan my moves based on what I know about the tide charts and what has worked in the past, not what the waves may be doing at the moment.
5. …not compare myself with others. This can be hard. I'm hardly an imposing figure on the beach. It'd be great to look like some of the other men I see there. But, I remind myself, my beach diet/workout strategy is tailored to who I am — an older guy trying to balance my beach prep life with my family life, work life, church life, and so on.
Have something to say about this article? Leave your comment via Facebook below!
advertise with us
Example: "Gen 1:1" "John 3" "Moses" "trust"
Advanced Search
Listen to Your Favorite Pastors