Should Mom Take An Outside Job?
Steve Diggs, No Debt, No Sweat! Financial Ministry
Friday, March 19, 2004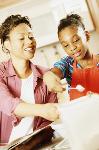 There was never too much that made my mom angry. But, if I told you her age, she'd probably hire a hit on me. I guess it's just something about Southern ladies of that generation-they don't miss beauty parlor appointments and they don't discuss their age. Soooo, suffice it to say, Mama lived long enough for her "three score and ten" to be a vague, distant memory. Thankfully, the Lord gave her good health for most of those years.
However, the past few years have been pretty tough. Several times she became so sick that we were afraid we might lose her. But, just like the Phoenix, Mom pulled through each time. She would describe her improved condition by saying that she finally felt safe buying green bananas again!
On February 15 of this year, Jesus relieved Mom of her suffering and brought her home. For us, it wasn't as much a funeral as a graduation ceremony.
Because of her struggles, the last couple of years were been filled with a lot of poignant moments for me. On a number of occasions I wandered through her house and remembered good days of childhood. I couldn't begin to tell you how many afternoons Mom and I sat together at the round table in the kitchen after school. She seemed to always be at home when I came through the door. Usually she had cookies and Kool-Aid or an RC Cola ready. She always had time to sit and listen as I told her about my day.
Mom was always good at building memories, too. She instinctively knew what made a little boy's eyes twinkle. The other day my mind trailed back to the time Mom helped me build a fire engine in the back yard. Equipped with an old washing machine hose, I'd hang my head through the kitchen window and extinguish imaginary fires.
She always had time to talk (and listen) to a little guy who was just beginning to size up the world around him. I still smile when I remember the trip to the forest behind our home. We sat on a fallen log and shared homemade brownies-and great conversation.
Even as a teenager, my mother intuitively knew that I still needed her mentoring. She always had time to go for rides in the car with me-and listen to my dreams. There were some difficult times through those years, but Mom was always rock solid and available. She stayed involved in my life, and was never shy about giving her opinion. And, if that opinion needed re-enforcement, she could flip open a chapter and verse proof text faster than I could say, "Give me a break, Mom!"
Early Choices That Make Big Differences
My parents made a tough decision when they decided that Mother would stay at home and be a full-time Mom. They had all sorts of pressures to do otherwise. For one thing, Mom had distinguished herself in the professional world. Her old employer was always inviting her to come back. Add to that the fact, that my folks really could have used the money. My dad's insurance business was young. It would be years before it got of the ground. The cost of financing a young family in those post-war years was a real strain.
So, my dad simply decided to pay the price. He left earlier, skipped lunches, and worked a little later than my friends' dads. At the time I didn't understand why, but now I'm glad he did. You see my mom and dad were a team. And the number one goal in their lives was to raise three children in a secure, loving, Christ-centered home. To them, that meant that Mom would be there 24/7. They saw the job of mothering as primary. Nothing else came first.
Dad passed away eighteen years ago. But I know that if he were here today, he would agree with Mom that it was one of the best decisions they ever made. I'm thankful to the Lord that Shirley, Sharon, and I had a Full-time Mom!
Have something to say about this article? Leave your comment via Facebook below!
advertise with us
Example: "Gen 1:1" "John 3" "Moses" "trust"
Advanced Search
Listen to Your Favorite Pastors