Should Mom Take An Outside Job?
Steve Diggs, No Debt, No Sweat! Financial Ministry
Friday, March 19, 2004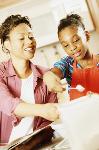 The Calling
Today, the average worker in America spends nearly 77,000 hours on the job over a lifetime. That's a lot of time! And the fact is, no one can be in two places at once. So the question is, where do you want to invest that time? Where will it be most beneficial? Where will it do the most good? When life comes to an end, I've never known anyone to say, "Boy, I wish I'd put in more hours building my career." But, many people have spoken regretfully that they didn't log more time with the family-especially when the children were small and needed them the most.

Those early years are so important. Experts estimate that 85% of people who accept Christ do so before age fifteen.
Author and psychologist, Dr. James Dobson has blessed millions of people with his advice and insights for over three decades. Through a professional relationship my firm once had with Dobson's Focus on the Family, I have grown to respect both the organization, and the man behind it even more. They are soldiers on the front line defending the cause of the traditional family. When Dr. Dobson speaks, I listen. In his clear, succinct way, he summed the importance of children up this way:
"Children are not casual guests in our homes. They have been loaned to us temporarily for the purpose of loving them and instilling a foundation of values on which their future lives will be built."
To this day, my sisters and I are still reaping the benefits that came from my mother's decision to stay home to raise and nurture us. Our parents realized that a mother's role was far more than a job-it was a calling of the highest order.
Why Women Work
With the benefits of staying home so great, one has to ask, "Why are so many women leaving home and hearth for the job market?" From what I've seen, I believe there are at least five reasons mothers go to work:
1) Search for Fulfillment and Challenge. Some women simply are not convinced that staying at home with their children maximizes their skills and talents. Women in this group often fall into one of two categories: High achievers who want the challenge of the marketplace, and women who feel under appreciated by their husbands.

A couple of thoughtless remarks by a husband about how he is the one bringing home the paycheck can destroy a woman's self respect. Suddenly, it isn't just the society around her that's minimizing her value-it's also her own husband! Value is not based on the number of dollars earned. It is based on the good that is accomplished. Loving husbands need to keep their wives reminded of the value they bring to the family by nurturing and training their children.
Now, a word to that first group of achievement-oriented women: There is nothing wrong with you! Please don't misconstrue any of my comments as being critical of women who are highly talented and capable. God made you that way. It's a gift to be embraced and used to His glory.

Many Godly women in this category have found ways to meet both their children's, and their own, needs. Today, it's easier than ever before. Many such women have started successful home businesses that provide the challenge of the marketplace while allowing them to be with their kids. If you are one of these women-go for it! After all, you have good Scriptural precedent. Take a look at the woman in Proverbs 31:10-31:
An excellent wife, who can find? For her worth is far above jewels. The heart of her husband trusts in her, and he will have no lack of gain. She does him good and not evil all the days of her life. She looks for wool and flax, and works with her hands in delight. She is like merchant ships; she brings her food from afar. She rises also while it is still night, and gives food to her household, and portions to her maidens. She considers a field and buys it; from her earnings she plants a vineyard. She girds herself with strength, and makes her arms strong. She senses that her gain is good; her lamp does not go out at night. She stretches out her hands to the distaff, and her hands grasp the spindle. She extends her hand to the poor; and she stretches out her hands to the needy. She is not afraid of the snow for her household, for all her household are clothed with scarlet. She makes coverings for herself; her clothing is fine linen and purple. Her husband is known in the gates, when he sits among the elders of the land. She makes linen garments and sells them, and supplies belts to the tradesmen. Strength and dignity are her clothing, and she smiles at the future. She opens her mouth in wisdom, and the teaching of kindness is on her tongue. She looks well to the ways of her household, and does not eat the bread of idleness. Her children rise up and bless her; her husband also, and he praises her, saying, 'Many daughters have done nobly, but you excel them all.' Charm is deceitful and beauty is vain, but a woman who fears the Lord, she shall be praised. Give her the product of her hands, and let her works praise her in the gates.
Have something to say about this article? Leave your comment via Facebook below!
advertise with us
Example: "Gen 1:1" "John 3" "Moses" "trust"
Advanced Search
Listen to Your Favorite Pastors