Should Mom Take An Outside Job?
Steve Diggs, No Debt, No Sweat! Financial Ministry
Friday, March 19, 2004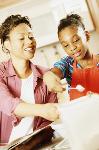 Wow, what a gal!!! This lady blessed everyone in her family-and ran a successful business to boot! Her focus was on her family-9 of the 22 verses refer directly to her work at home. In addition to being a partner to her husband (vv 11, 28, 29), she ran a real estate and farming business, and she was in the garment industry (vv 16-18, 24). This was one goal-oriented, success-focused woman!
2) Social Pressures. Often, women who otherwise would love to be with their children become convinced that they should remain in the job market. Society and the media present a compelling case for not accepting a more traditional approach to child rearing. There seems to be a massive effort afoot to minimize the damage done to children whose mothers leave home. The message comes through loud and clear that today's woman can capably nurture kids and do battle in the workplace. I have yet to see convincing data to support this.
3) Money. Many women (and their husbands) are convinced that they both must work to earn enough money to fund the family. Certainly, there are those occasions where a mother must work just to make ends meet. But here's where the rub comes. We are saturated in a culture that confuses legitimate needs with wants and whims. One of the downsides of prosperity is that it causes a societal-wide lust for the "good life". Television, advertising, and even our friends, convince us that we need far more than we actually do. So, persuaded that we have to keep up with the Joneses-it's off to the "Second Income Races". And left behind, holding the bag-are the kids.
Personally, I question whether a greater good is accomplished when Mom is separated from her children in order to earn more money for "needs" like cable television, an extra car, piano lessons, elite private schools, designer cloths, and vacations.
4) Lazy Husbands. In recent years, I have noticed a disturbing trend: Men, who themselves were raised by absentee moms, are pressuring their wives to "bring home the bacon." It hurts me to even have to acknowledge the fact that there are Christian men who insist that their wives to go to work outside the home. As the head of the household, it is primarily the man's responsibility to provide for his family. To bottom-line it, Dad is responsible for going out, killing something, and dragging it home! I would encourage Christian men to help their wives stay at home. Work extra hours, take a second job, skip the golf games, cut back on your lifestyle-but try to help Mom be with the kids.
5) Legitimate Need. So that I don't broad-brush this issue unfairly, let me clarify my point. I'm not suggesting that it's always wrong for Mom to go to work. But I do think it should be a last alternative after every other option has been explored. There are dire situations where Mom has to go out of the home. Husbands die, some become disabled, and sometimes they run off. I recently heard the heartbreaking story of a family who had gotten into such horrible financial distress that the only way to avoid bankruptcy was for the mother to get a short-term job. There are legitimate reasons for Mother to leave home for a job.
As a Christian couple, yours is a difficult task: You must honestly appraise your motives. Why is Mom taking a job that will remove her from the kids? Is it out of real need-or, are there other objectives? Bring the question before God. Ask Him for counsel and direction. Ask Him to help you see it from His eyes, instead of the world's eyes. Seek His face. Commit your ways to Him, and accept His direction.
Steve Diggs presents the No Debt No Sweat! Christian Money Management Seminar at churches and other venues nationwide. Visit Steve on the Web at www.stevediggs.com or call 615-834-3063. The author of several books, today Steve serves as a minister for the Antioch Church of Christ in Nashville. For 25 years he was President of the Franklin Group, Inc. Steve and Bonnie have four children whom they have home schooled. The family lives in Brentwood, Tennessee.

A complete financial compendium, 19 chapters
• What you can do today to get out of debt and kill the Debt Monster
• A,B,C's of handling your money God's way
• How to save, invest, and retire wisely
• How mutual funds work
• How to stop fighting over money
• What to teach your kids about money
• Learn how home & car buying, college financing and insurance work.
• How to develop a budget that works-FOREVER!
• Features simple charts, graphs, and easy-to-use forms.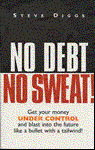 Click here to LEARN MORE or to ORDER
Have something to say about this article? Leave your comment via Facebook below!
advertise with us
Example: "Gen 1:1" "John 3" "Moses" "trust"
Advanced Search
Listen to Your Favorite Pastors