Take the Plane, Avoid the Strain: Tips for Worry-Free Traveling
Steve Diggs, No Debt No Sweat! Financial Seminar Ministry
Monday, July 16, 2007

Ask for Better Seats: This can be especially helpful if you're large or on a long flight. I prefer the bulkhead seats. These are seats with a wall, rather than another chair in front of them. Usually bulkheads provide more leg room. Many airlines hold their bulkhead seats to the last minute in case they need them for handicapped passengers. Consider going to the gate agent about an hour before your flight and see if one is available. Or, ask for an exit row seat. These seats usually provide more leg room, too. And, if nothing else is available, ask for an aisle seat. Seasoned fliers usually prefer aisle seats because they allow one to stand up and move around easier than with a window or center seat.
Pay Attention When Making Connections: Big airports in major cities can be confusing for the occasional flyer. When you're making a connection it's wise to double check. Ask the gate agent as you de-board which gate your connection flight is leaving from. Then check one of the overhead screens. Be sure you get the same info from both sources. Sometimes gates change. It's a sickening feeling to rush through an airport only to arrive at the wrong gate as you look through the window to see your airplane pushing back from another concourse.
Carry the Airline's "800" Number: If your flight is cancelled, one thing is for sure: Everybody is going to rush to the gate agent to rebook. If you aren't at the front of the line, having the airline's toll-free ticketing phone number can be very helpful. Sometimes you can rebook on the next flight out with a simple phone call.
Pick a Favorite Airline: Loyalty has its rewards. If you plan to fly a lot, it may be wise to select a single carrier for most of your flights. Check you long-term schedule and find an airline that goes most of the places you plan to go. Then, try to fly with them as often as possible. Frequent flyers get more than points. When a customer gains "status" with an airline they break their necks to keep that passenger happy. Re-bookings are easier. You may be allowed to pre-board. When flights are oversold, the best customers are the last to be bumped. And, if coach is sold out, some airlines give free first class upgrades to their best passengers.
Over one hundred of my flights this year are booked on American Airlines. For several reasons, American is my preferred airline. One reason is because I respect the way American Airlines has weathered the tough economic climate of the last six years. They are the only one of the six major spoke-and-hub airlines that I'm aware of who haven't filed some form of bankruptcy. American Airlines employees and management have accepted pay cuts and longer hours just to keep the airline in business. I like that. I know many of the American employees in Nashville and they always go out of their way to help me. And, while I'm not on a first name basis with American employees elsewhere, they generally search for solutions when problems arise. Just this week, agents have slipped me into preferred seats on at least two flights.
---
Steve Diggs presents the
No Debt No Sweat! Christian Money Management Seminar
at churches and other venues nationwide. Visit Steve on the Web at
www.stevediggs.com
or call 615-834-3063. The author of several books, today Steve serves as a minister for the Antioch Church of Christ in Nashville. For 25 years he was President of the Franklin Group, Inc. Steve and Bonnie have four children whom they have home schooled. The family lives in Brentwood, Tennessee.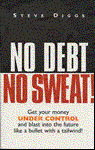 A complete financial compendium, 19 chapters
• What you can do today to get out of debt and kill the Debt Monster
• A,B,C's of handling your money God's way
• How to save, invest, and retire wisely
• How mutual funds work
• How to stop fighting over money
• What to teach your kids about money
• Learn how home & car buying, college financing and insurance work.
• How to develop a budget that works -- forever!
• Features simple charts, graphs, and easy-to-use forms.
Click here to learn more or to order..
Have something to say about this article? Leave your comment via Facebook below!
advertise with us
Example: "Gen 1:1" "John 3" "Moses" "trust"
Advanced Search
Listen to Your Favorite Pastors