Teaching Children God's Financial Principles
Howard Dayton, Baptist Press
Friday, August 25, 2006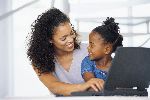 The chaotic financial situation produced by the indebtedness of American families makes one wonder what might become of the children of our next generation. Unfortunately, many Christian families suffer from this sort of financial turmoil, too.
How do we teach the next generation? After all, many adult Christians don't understand God's principles of finance, either. Nevertheless, the Bible directs us to "teach a youth about the way he should go; even when he is old he will not depart from it" (Proverbs 22:6). God is very specific concerning the responsibility of parents to train their children. But, where does a parent begin?
Well, the way to train children is actually very simple -- the same principles that God establishes for parents, the parents should pass along to their children. Sadly, too many Christian parents are unaware of God's biblical principles. But, even if they are aware, and they practice godly principles, the difficulty comes in deciding which principles to teach at what age and how to get children to understand. You could begin with three biblical financial principles that apply both to parents and to children.
First, teach by example that God owns it all. Parents must demonstrate their willingness to put aside indulgences and personal wants in order to meet the needs of the family and others. Parents should let their children see them pray for God's provision for material needs and let the children know that borrowing is not God's best for the family. Parents must show by example that the tithe is the first thing that faithfully comes out of every paycheck. This instills in children the tithing principle, giving back to God the firstfruits of their income. Then, when they begin to receive money, children need to be encouraged to tithe.
Second, exercise self-control. Parents cannot establish financial discipline in a child if they themselves are not disciplined. Share the family budgets with children so they see how mom and dad save money to buy clothes, repair the car, buy Christmas and birthday presents and take vacations. Teach and practice moderation, regardless of the ability to generate income. God requires that we exercise discipline in everything we do.
Third, live on a budget. No matter what the family income is, a budget is needed. Begin at an early age teaching children how to manage their money and how to divide it into different parts.
Family matters
Everyone in the family should share in the opportunities, responsibilities, rewards and income of that family. As part of the family, give children certain household duties for which they are not paid, such as cleaning their rooms, doing dishes and picking up toys.
However, for children to learn the value of money they need to have an income, and many parents choose to give their children an allowance. An allowance should not be tied to work-for-pay projects; it is strictly money given to children with no strings attached. Nevertheless, establish allowance guidelines. An allowance should be large enough that the children look forward to receiving it, but not so large that it takes care of all wants and needs. They should learn how to save for the things they want. And, just as parents receive raises at work, children also should receive allowance raises.
In addition to allowances, parents should provide paying jobs for their children. These might include lawn mowing, garden weeding, garage cleaning and so on. Pay the child equitably according to what parents are able to afford.
Life isn't fair, but ...
Parents must be fair -- and also firm, insisting that their children observe some simple rules.
Have something to say about this article? Leave your comment via Facebook below!
advertise with us
Example: "Gen 1:1" "John 3" "Moses" "trust"
Advanced Search
Listen to Your Favorite Pastors