Three Great Principles of Godly Giving
Steve Diggs, No Debt No Sweat! Financial Seminar Ministry
Friday, May 26, 2006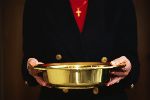 If you have ever had such an experience, then imagine how God must feel when His children—the ones He has gifted with life itself—are too selfish to share with others.
The simple point is: We have been given, so we can give. When we fail to understand this we break the heart of God!
Paul opened the window to God's mind this way, "Let each one do just as he has purposed in his heart; not grudgingly or under compulsion; for God loves a cheerful giver." (2 Corinthians 9:7, emphasis mine, NASV)
Maybe it's a slight exaggeration, but to help me remember this point, I have written the word "hilarious" in the margin of my Bible next to "cheerful giver." This helps me stay focused when it comes to giving. And it helps me overcome my natural tendency to find excuses not to give.
Principle #3: We Should Give As We Have Been Given
Remember, God doesn't expect us to give what we don't have. There is no place in Christian giving for competition or comparison to others. Each Christian's giving is a very personal experience—based on his or her financial ability. From the earliest days, God has made allowances for the financial disparity between His people. In Old Testament days, the better-healed Jews were expected to bring a sacrificial lamb, while poorer followers were permitted to bring less expensive doves and pigeons.
I think of Matthew 6 as the "when you" chapter. On three different occasions in that chapter Jesus says, "When you," in referring to the Christian disciplines of giving, praying, and fasting. In each case He gives His followers directions on how to give, pray, and fast. Interestingly, Jesus makes a strong point of the very personal, private nature of each of the disciplines. Listen to what He says about giving:
"When therefore you give alms, do not sound a trumpet before you, as the hypocrites do in the synagogues and in the streets, that they may be honored by men. Truly I say to you, they have their reward in full. But when you give alms, do not let your left hand know what your right hand is doing that your alms may be in secret: and your Father who sees in secret will repay you." (vv. 2-4, NASV)
Since our giving is never to be done for human acknowledgement or praise, the only One left to please is God. And, He doesn't care how many dollars you give compared to anyone else. Paul says it well in 1 Corinthians 16:1,2:
"Now concerning the collection for the saints, as I directed the churches in Galatia so do you also. On the first day of every week let each one of you put aside and save, as he may prosper, that no collections be made when I come." (emphasis mine, NASV)
Just Like The Pharisees…
While most of us wouldn't admit it, Christians today fall into the same legalism the Pharisees used to succumb to. We tend to systematize, organize, institutionalize, and ultimately, sterilize our faith.
Trouble is, Christianity is a religion of the heart. God looks at our intentions. Rather than trying to develop a neat, tidy giving technique—why not lay it all before God. Ask Him to lead your heart and open your spiritual eyes. Then giving will become a joy instead of a duty.
---
Steve Diggs presents the
No Debt No Sweat! Christian Money Management Seminar
at churches and other venues nationwide. Visit Steve on the Web at  www.stevediggs.com or call 615-834-3063. The author of several books, today Steve serves as a minister for the Antioch Church of Christ in Nashville. For 25 years he was President of the Franklin Group, Inc. Steve and Bonnie have four children whom they have home schooled. The family lives in Brentwood, Tennessee.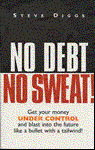 A complete financial compendium, 19 chapters
• What you can do today to get out of debt and kill the Debt Monster
• A,B,C's of handling your money God's way
• How to save, invest, and retire wisely
• How mutual funds work
• How to stop fighting over money
• What to teach your kids about money
• Learn how home & car buying, college financing and insurance work.
• How to develop a budget that works -- forever!
• Features simple charts, graphs, and easy-to-use forms.
Click here to learn more or to order.


Have something to say about this article? Leave your comment via Facebook below!
advertise with us
Example: "Gen 1:1" "John 3" "Moses" "trust"
Advanced Search
Listen to Your Favorite Pastors