When Spouses Disagree on Financial Matters
Howard Dayton, Baptist Press
Thursday, April 21, 2005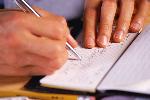 Disagreements regarding financial matters are a major cause of marital problems. So, what should a married person who is a Christian do when his or her spouse doesn't want to tithe or budget?
Well, in 1 Peter 3:1-6 the Bible clearly indicates that a wife should submit to her husband's wishes, trusting that her submissive attitude may draw him closer to the Lord. Just remember that the Lord's concern is not the money; it is the attitude of our heart.
But couldn't the same application be made for the husband? If you've made a commitment to give and your spouse doesn't want to give, God sees the desire of your heart to tithe and He will honor that commitment even though you adhere to your spouse's wishes and do not tithe.
Our Heavenly Father cares about what's going on in our lives. He cares about our attitudes and motives as well. He won't ask you to do something that is impossible, but He will provide a way for you to do His will if you trust in His power to accomplish what He desires for your marriage.
Each of us can find encouragement and strength in these promises from God's Word: "Be silent before the LORD and wait expectantly for Him" (Psalm 37:7), and "Whatever you ask in My name, I will do it so that the Father may be glorified in the Son" (John 14:13).
Here is a suggestion you might want to try if your spouse doesn't want to tithe. Ask him or her to allow you to give a smaller amount for at least one year. If, at the end of the year, you are worse off financially as a result of your giving, you will agree to stop giving on his or her income. But if you are better off, then he or she may be willing to give even more.
In Malachi 3:10, the Lord tells us that we should test Him in this matter of tithing. So why not try it? After all, God's doing the inviting! And, often, beginning to tithe is just the opportunity for God to prove Himself to a doubting spouse.
In theory, the matter of budgeting is pretty straightforward -- for someone who is single. But if you are a typical married couple, very likely one of you enjoys spending and one of you wants to save. This complicates the matter somewhat; and with this in mind, husbands and wives need to learn to work together. Otherwise, no spending plan will work well. Furthermore, if you are married to someone who simply refuses to cooperate, it will be impossible to budget properly.
Agreeing as a couple about financial decisions and goals requires consideration, perhaps some compromise, and might even involve sacrifice from each partner.
The Bible tells us that if a husband doesn't seek the counsel of his wife, he is out of God's will (see 1 Peter 3:7). So, any husband who doesn't listen to his wife is closing off one of the very best avenues of wisdom that the Lord has established for his good.
Usually neither spouse is completely right or wrong. So, by working together, you'll find a better plan of action than either one of you would find alone.
If your spouse refuses to budget, try to find out what the underlying problem is. Perhaps he or she sees a budget as a weapon, a tool to control. And remember that resistance in financial matters may indicate a spiritual problem that could result in a marriage problem. So a humble spirit, a servant attitude and serious prayer will always be far more effective than trying to force a rigid budget on your spouse.
Ephesians 5:25 says, "Husbands, love your wives, just as also Christ loved the church and gave Himself for her," and that applies to every man who seeks to please God in his personal relationship with his wife. But, both husbands and wives need to be valued and have their opinions respected. God sees spouses as one flesh. If you want your family to live on a budget, be careful to lead with a servant's heart and with a listening ear.
Have something to say about this article? Leave your comment via Facebook below!
advertise with us
Example: "Gen 1:1" "John 3" "Moses" "trust"
Advanced Search
Listen to Your Favorite Pastors