Being a Woman of Faith
Denise Mira
Friday, August 02, 2013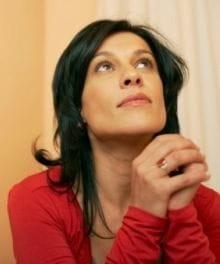 "And blessed is she that believed: for there shall be a performance of those things which were told her from the Lord" (Luke 1:45).
These inspired words, spoken by Elizabeth about her young cousin, Mary, who was pregnant with the Son of God, may have gotten lost in the Christmas story we've heard so many times. However, their application to us personally, as God-fearing women, is profound.
Indeed, Mary heard "things which were told her from the Lord." The news of her divine conception was delivered to her during an epic visitation by the angel, Gabriel. She accepted his message, put her faith in his startling proclamation, and was exhorted as a "blessed believer" by her now-famous cousin. As we read on in our Bibles, we know there certainly was "a performance of those things which were told her from the Lord" following this event.
My concern is that we become so awestruck by this Biblical account that we dismiss the fact that we, too, have heard things which were told us from the Lord! Significant things, with mind-boggling, long-range, implications.
"Hmm...not me," you may reply.
Really? Perhaps I can persuade you to reconsider...
No, there will never be another Virgin Mary, and there's only one Savior (Acts 4:12), and I have yet to see an angel, but as I ponder my thirty-three years of knowing Jesus, my thirty-one years of marriage, my five sons, baby granddaughter, and my twenty-plus years of homeschooling, I have to believe that those things which were told me from the Lord so many years ago took root and continue to bear fruit to this day. The faith I applied to what I heard from Him became the fertilizer that nourished His promises to me, allowing them to grow and become the reality in which I live today. Surely there has been a "performance of those things which were told...[me] from the Lord," and the same should be true of you.
But you may not see yourself through eyes of faith. You may relegate such Scripture to "someone else"—those "blessed ones" who did things right, those model families. After all, you're living in the real world, created by all the choices you've made (some being tinged with bitter regret). Not to mention that the people living in your house are far from perfect too. So, in actual fact, the glories of God's Word are more like a beautiful fantasy to be put off until eternity. Right?
We've all felt that way. I haven't been living on Easy Street either, since I began my journey of faith more than three decades ago. At times, the remarkable answers to prayer I experience and the astounding, even flawless way life's circumstances play out simply takes my breath away. At other times, life hits like a punch in the gut, leaving me a different kind of breathless altogether.
But I refuse to lose hope, because I've found that a woman of faith is a woman who endures many difficulties and yet finds God in the midst of her troubles. With feet like a deer (Psalm 18:33), she climbs up and over the craggy rock boulders of tedium, trial, and temptation. She is not wafted away from her struggles by angelic beings. Trust me.
A powerful life in God is not a spotless, happy existence, peppered with "hallelujahs!" at every turn. Quite the contrary. Real life, even lived in faith, can be quite messy. Life is verifiably hard, rife with surprises, twists, turns, and lots of sinful human beings. It's guaranteed to confound us at times. Psalm 34:19 underscores this truth, reminding us that "many are the afflictions of the righteous."
Recently on Encouragement
Have something to say about this article? Leave your comment via Facebook below!
advertise with us
Example: "Gen 1:1" "John 3" "Moses" "trust"
Advanced Search
Listen to Your Favorite Pastors