Briefly Books: Great Books for Teen Readers
Jan Bloom, Home Educating Family Magazine
Tuesday, February 15, 2011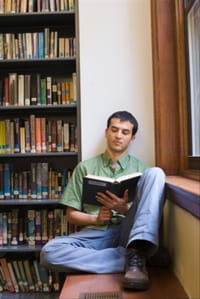 One of the easiest ways to discover good modern books is through the learned opinions of others whose worldview is established on righteousness. I gather much of my information about modern books from magazines (World Magazine often has great reviews), books about books (Gladys Hunt's Honey for a Child's Heart, Honey for a Teen's Heart, and Honey for a Woman's Heart are my favorites), and conversations with other readers. I also have a file of curriculum guides, including Ambleside (www.AmblesideOnLine.org), My Father's World (www.mfwbooks.com), Tapestry of Grace (www.TapestryOfGrace.com), BiblioPlan (www.BiblioPlan.net), as well as vendor catalogs such as those published by Beautiful Feet Books (www.bfbooks.com), Bethlehem Books (www.BethlehemBooks.com), Veritas Press (www.VeritasPress.com), and Yesterday's Classics (www.YesterdaysClassics.com) with their lists of recommended and/or reprinted books.
A varied diet of classics, potential classics, and timely books of the day will encourage intellectual growth, a broader perspective on things that really matter, and a deeper understanding of people and the times in which we live. The list of authors introduces potential classics as well as timely books of the day. I hope each of these authors will show to advantage and enlighten, entertain, and encourage your teen readers who want books that are realistic, truthful, interesting, and enjoyable. I've chosen to list the authors in alphabetical order for convenience, with just a brief tag for their main genre. I apologize in advance for my tags. If "Christian" is a part of it, it merely denotes a publisher committed to a Christian worldview. It in no way puts the other books into a "non-Christian" camp.
10 Authors of Classics for Teens
1. Austen, Jane
2. Bronte, Charlotte
3. Dickens, Charles
4. Dostoevsky, Fyodor
5. Doyle, Sir Arthur Conan
6. Hawthorne, Nathaniel
7. Melville, Herman
8. Tolstoy, Leo
9. Twain, Mark
10. Verne, Jules
30 Potential Classics & Timely Books
1. Alcorn, Randy—Christian intrigue (Safely Home is one of the most convicting books I've ever read.)
2. Austin, Lynn—Christian historical and modern sagas
3. Chesterton, G. K.—mysteries (Father Brown)
4. Christie, Agatha—mysteries
5. Christopher, John—fantasy
6. Costain, Thomas—historical saga (The Silver Chalice is one of my favorites.)
7. Douglas, Lloyd—historical saga (The Robe is a much better book than movie!)
8. Goudge, Elizabeth—life stories (also one of Elizabeth Elliot's and Ruth Graham's favorites)
9. Hannegraf, Hank—Biblical intrigue
10. Herriott, James—animals
11. Hope, Anthony—historical intrigue
12. Hunt, Angela Elwell—Christian historical and modern sagas
13. L'Amour, Louis—Western and spy
14. Lawhead, Stephen—Christian fantasy, historical saga
15. Lewis, C. S.—fantasy
16. MacInnes, Helen—historical intrigue (recommended by Francis and Edith Schaeffer)
17. McCullough, David—history and biography
18. Myers, Bill—Christian thriller
Have something to say about this article? Leave your comment via Facebook below!
advertise with us
Example: "Gen 1:1" "John 3" "Moses" "trust"
Advanced Search
Listen to Your Favorite Pastors