How to Prepare Your Kids for Meaningful and Worthy Lives
Mark Hamby, Founder and President, Lamplighter Ministries
Friday, March 28, 2014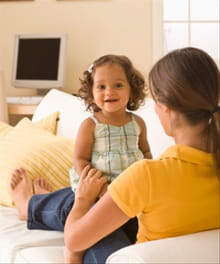 Our children will succumb to deadly attractions unless we, as parents, pursue and provide healthy alternatives. I will never forget the time I took a teen on a mountain hike. The vistas were breathtaking. The rock climbing was incredible. But the teen spent most of his time texting his girlfriend. He was so distracted that he couldn't enjoy or benefit from this once in a lifetime experience.
So here's a proposal. As a family, consider going on a thirty-day media fast. This means no video games, no TV, no movies, no Facebook, no radio, no newspapers, no Fox News—nothing related to the media. The first week will not be easy. But soon your entire family will begin to experience an unusual freedom. You will begin to do things that you haven't thought of doing for a long time. You will begin spending more time outdoors. You will spend more time talking, playing games, creating, reading, and building lasting relationships.
In 1 Peter 2:11 we read, "Beloved, I urge you as sojourners and exiles to abstain from the passions of the flesh, which wage war against your soul" (ESV). Friends, there is a war being waged against our souls. In 2 Peter 2 we read that Lot's righteous soul was being vexed from day to day by the things he saw and the things he heard in Sodom and Gomorrah. Notice that Lot didn't do those things; he just saw and heard them. The word vexed means "to be tortured or torn apart." Our children's souls are worth fighting for!
We have been given instructions by God to "train up" our children in the way they should go. This involves training within restricted boundaries. It's time to remove the idols that are so easily accessible and cultivate in our children an appetite for what is good and lovely and just and beautiful and worthy.
Books to Read
Children aged 2–5:
Sanji's Seed by B.J. Reinhard
Teddy's Button by Mark Hamby
The True Princess by Angela Hunt
Trusty Tried and True by Mark and Deborah Hamby
Trusty Gets Off Track by Mark and Deborah Hamby
Ages 6 and up:
Basket of Flowers by Christoph von Schmid
Basil, Or Honesty and Industry by Charlotte O'Brien
Ishmael by E.D.E.N. Southworth
Lamplighter by Maria S. Cummins
Little Sir Galahad by Lillian Holmes
Rosa of Linden Castle by Christoph von Schmid
Struck By Lightning by Catherine Grace O'Brien
Audios to Listen To:
A Peep Behind the Scenes
Charlie's Choice
Hedge of Thorns
Sir Malcolm and the Missing Prince
Teddy's Button
Videos to Watch
Captivated by Phillip Telfer
People to Meet
Phillip Telfer is the founder and director of Media Talk 101, which he began in 2005. He is author of the book What Wouldn't Jesus Do? Media choices in the light of following Christ and has ministered to youth and families over the last twenty years, sharing at camps, retreats, conferences, Christian schools, and church services around the country.
He has recently written and produced a documentary called Captivated, which addresses the impact of media in our culture and the growing need for discernment. Captivated was awarded as Runner-up for Best Documentary at the San Antonio Independent Christian Film Festival and was selected as a Finalist for Best of Festival. Phillip has served in various pastor roles over the years and is passionate about family-integrated church and ministry. He served for several years as a co-pastor at Living Water Fellowship in Bulverde, Texas, with Richard "Little Bear" Wheeler. He and his wife Mary have been married for twenty years and home-educate their four children.
Mark Hamby is the founder and president of Lamplighter Ministries, where he serves with a dedicated staff to make Lamplighter Publishing, Lamplighter Theatre, Lamplighter Guild, Lamplighter Life-Transforming Seminars, and Lamplighter Moments Daily Radio Broadcast a reality. It is his mission to make ready a people prepared for the Lord by building Christlike character . . . one story at a time. You can read or listen to the most recent Lamplighter production at www.lamplighter.net.
Copyright 2012, used with permission. All rights reserved by author. Originally appeared in the June 2012 issue of The Old Schoolhouse® Magazine, the family education magazine. Read the magazine free at www.TOSMagazine.com or read it on the go and download the free apps at www.TOSApps.com to read the magazine on your mobile devices.
Publication date: March 28, 2014
Have something to say about this article? Leave your comment via Facebook below!
advertise with us
Example: "Gen 1:1" "John 3" "Moses" "trust"
Advanced Search
Listen to Your Favorite Pastors