Be Subject to One Another
Debbie Holloway, Assistant Editor, Crosswalk.com
Monday, July 02, 2012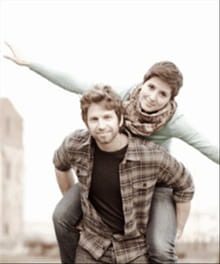 I don't often base my theology on my feelings. Now, I do think God implants desires, instincts, and often feelings inside of us to better communicate His own heart. But I am a cautious person and I rarely trust my own feelings over the judgment of someone I consider wiser than myself.
The apostle Paul (someone probably wiser than myself) wrote to one of his churches: "Wives, be subject to your own husbands, as to the Lord. For the husband is the head of the wife, as Christ also is the head of the church, He Himself being the Savior of the body. But as the church is subject to Christ, so also the wives ought to be to their husbands in everything" Ephesians 5:22-24.
So I might look around and think, Man, guys are dumb. Or I might consider my own opinions on a certain matter and think, I could give much wiser input than HE could about this decision – but when it comes to my future husband (and yes, we have a date set) I know what Paul has to say.
However, I don't think that's all he has to say.
Ephesians chapter five isn't only about marriage. In fact, it's actually about the Church and being "imitators of God." Just ONE verse before the (in)famous passage on husbands and wives, Paul writes "be subject to one another in the fear of Christ" (Ephesians 5:21).
Backing up, his whole thought goes like this:
"So then do not be foolish, but understand what the will of the Lord is. And do not get drunk with wine, for that is dissipation, but be filled with the Spirit, speaking to one another in psalms and hymns and spiritual songs, singing and making melody with your heart to the Lord ; always giving thanks for all things in the name of our Lord Jesus Christ to God, even the Father ; and be subject to one another in the fear of Christ" Ephesians 5:17-21).
My first thought is, wow. Paul is trying to impart the importance of humble, selfless community. We are not to spend our time getting drunk; it's unsightly and a waste of time. We are to speak to each other in psalms! According to Strong's concordance, the Greek psalmois used in the verse means we should communicate with each other as though we were musical instruments. My communication to another believer should be a "sacred ode." That's a lot more grace and intentionality than that with which believers often speak to each other, I think.
Then Paul tells us to be subject to each other in the fear of Christ. Now, the Fear of the LORD is a different subject entirely. My fiancé is a biblical studies student with a concentration on the Old Testament, and he did a very extensive paper on how the Fear of the LORD means a lot more than "reverence" or "respect." One source I remember him telling me about described this fear as the fear you might have of a spouse. Not afraid because they abuse you, but afraid that you might displease them, break your vows, or wound them. The fear is like living with great care and caution because the love you have for them is so strong. I guess that is sort of a side-note on my thoughts, but I have a feeling that this Fear is an important, underlying root in examining how and why we treat each other the way we do.
Have something to say about this article? Leave your comment via Facebook below!
advertise with us
Example: "Gen 1:1" "John 3" "Moses" "trust"
Advanced Search
Listen to Your Favorite Pastors