Be Subject to One Another
Debbie Holloway, Assistant Editor, Crosswalk.com
Monday, July 02, 2012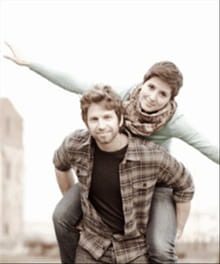 So, we are to (in and through this Fear of Christ) be subject to our Christian brothers and sisters, sons and daughters, mothers and fathers. This is the same word used in the following verse: "Wives, be subject to your own husbands, as to the LORD" (Ephesians 5:22). On the one hand, I think it's important to note that the word is the same. If we are supposed to subject ourselves to all our Christian brethren, of course we must to our spouses! And yet, the text clearly does go further. It says for me to be subject to my "own" husband – specifically (not yours, not hers, and not any other man) denoting that this submission is a little different. Paul does not say submit through or in Christ (as he does in Ephesians 5:21) but says just like the Church submits to Christ. Similarly, and of striking importance to a later point, Paul also says that husbands are to love their wives just like Christ loved the ChurchEphesians 5:25.
He is setting up a model here for us to follow. This is an important relationship; one that God has clearly treasures and values. Marriage is so important that it's modeled after our relationship with Christ. Clearly it's an imperfect model (because no one is Christ- Romans 3:10). But it's something.
And here's something I find more fascinating the more I read it:
"Husbands, love your wives, just as Christ also loved the church and gave Himself up for her, so that He might sanctify her, having cleansed her by the washing of water with the word, that He might present to Himself the church in all her glory, having no spot or wrinkle or any such thing; but that she would be holy and blameless. So husbands ought also to love their own wives as their own bodies. He who loves his own wife loves himself ; for no one ever hated his own flesh, but nourishes and cherishes it, just as Christ also does the church, because we are members of His body" Ephesians 5:25-30.
I have seen many controversial sermons, messages, and articles tackle the role of wives in Ephesians 5. But you know what I have not heard as much about?
Husband: guide your wife so faithfully and righteously that you keep her holy and blameless- never lead her into a bad or dangerous situation.
Husband, nourish and cherish your wife (mind, body, spirit) with all the care and caution of self-preservation. You would do anything to keep yourself alive, well, satisfied, and happy. Do that for her as though her body (mind, spirit) was your own.
Husband, love her just like Christ loves the Church. Really. Like he ministered to her. Suffered and died for her. Pursues her every day to make her love him like he loves her.
Wow. Wow. I can't think of a greater charge in Scriptures than "love [insert person here] as Christ loves the church." Because Christ's love for his Body is endless, perfect, wise, flawless, and selfless. He listens to us, protects us, works with our faults, guides our choices, and rolls with all the punches of every new age. And men cannot be that, not really. But they are called to try. Just like I, as a woman, will not be someone who can be good at subjecting myself to my husband. But I know that my soon-to-be-husband is the kind of man who will do everything he can to love me like Christ loves the Church, so I am going to try my best to subject myself to him in our discussions and decisions- just as Christ laid down his own human will for the Father's greater plan.
Have something to say about this article? Leave your comment via Facebook below!
advertise with us
Example: "Gen 1:1" "John 3" "Moses" "trust"
Advanced Search
Listen to Your Favorite Pastors