Claim God's Promises for Your Marriage
Whitney Hopler, Live It Editor
Thursday, May 26, 2005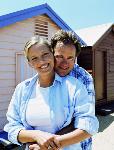 God makes many promises throughout the Bible. And you and your spouse can rely on every one of them, because the power of a promise depends on the one who makes it. There's no better promise to trust than one made by God Himself.
Claiming God's promises together will unleash His power in your marriage. Here are some ways you can claim God's promises of ...
Answered prayer: Honestly consider what excuses you've been using not to pray. Identify the one that's most obvious in your life, and ask God to help you overcome it. Make a list of people and things for which to pray. Then record answers as they come. Memorize one of the Scripture verses that describes God's promise to answer prayer (such as Matthew 7:7-8). Talk and listen to God throughout your day, even in the car and the shower. Commit to praying with your spouse daily. Set an initial goal of praying together for five minutes each day, then gradually increase that time as appropriate.
Change: Know that God isn't interested in preserving the status quo; He specializes in bringing about transformation. Ask yourself and your spouse: "How has my life changed since accepting Christ?" and "How has my marriage changed since becoming a Christian?". Thank God for those changes. Then ask, "What further changes does God want me to make in my life that will better reflect that I am His child?" Ask God for help to make those changes. Finally, ask your spouse or another trusted person to share any positive changes he or she has observed in your character or conduct recently, and what changes you may still need to make.
Comfort: Rely on God's comfort when you're suffering. Know that He is always available to help you, no matter what your circumstances. Trust that God will also use your pain as tools to bring about positive growth in your life; ask Him to reveal what He wants you to learn from your troubles. Develop a compassionate heart for other people and share the comfort God has given you with them - through encouraging words, acts of kindness, hugs, etc. Don't lecture, sermonize, accuse, or criticize hurting people. Instead, remember when you were hurting yourself and recall how God encouraged you. Keep in mind that hard times can deepen your faith, teach you patience, develop your maturity, build your wisdom, force you to pray, and remind you of what's truly important.
Completion: Trust that God will continue to work in your life until He has completed all the good work He has begun in you. Take heart that God isn't finished with either you or your spouse. View yourselves as works in progress. Pray about your specific needs individually and as a couple. Make every effort to grow continuously in your walk with God, and be confident of His help to do so.
Courage: Know that God will give you the courage you need for whatever battles you face - in your marriage, and elsewhere. Read your Bible daily, asking the Holy Spirit to guide you as you read. Decide to stand up for Christ in public, at work, and at home. Strive to model godly character to one another and others, fulfill your role in your family, guide your family out of worldliness and into holiness, speak up for morality at your children's school(s), and live a consistent life for Christ, regardless of the cost. Discuss your fears with your spouse and support each other in prayer for newfound courage.
Deliverance: Expect temptations as a normal part of life in our fallen world. Know that God promises to help you avoid giving into temptation by providing a way to escape it before it hurts you. Be aware of people or situations that tempt you - a shortcut, an attractive man or woman, a bigger house, etc. Run from your areas of weakness. Pray before you act. Read God's Word. Consider the consequences of giving into specific temptations. Build a support system of other Christians who can encourage you and keep you accountable.
Have something to say about this article? Leave your comment via Facebook below!
advertise with us
Example: "Gen 1:1" "John 3" "Moses" "trust"
Advanced Search
Listen to Your Favorite Pastors