Discover New Life After Divorce
Whitney Hopler, Live It Editor
Thursday, July 07, 2005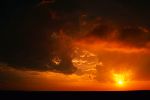 Divorce rips your heart and world apart. In the midst of such deep pain, it may seem that all joy and meaning in your life have ended along with your marriage.
But God can use the tragedy of divorce to trigger powerful growth in you. If you turn to Him, He will give you the healing, encouragement, and new life you need.
Here's how you can discover new life after divorce:
Accept what has happened. Don't waste time and energy living in the past. Once your marriage has ended and your former spouse offers no hope of reconciliation, it's time to accept your situation so you can move on.
Accept yourself. Stop beating yourself up for your shortcomings that surfaced in the divorce. Understand that some self-reflection and improvement is healthy, but you should still embrace the fact that God values you and will continue to use you for good things in life.

Renew your spiritual quest. Give God your pain and ask Him to use it to bring about transformation in your life. Ask God what He wants you to learn from your current suffering. Rely on Him – instead of yourself – for strength. Trust Him to take you through the healing process. Thank Him for His work in your life.
Find help from other people. Don't isolate yourself from others; you especially need relationships during a crisis. Pray for God to bring a network of people into your life to support you in this time of need – family members, friends, church members, neighbors, coworkers, etc. Let people know specific ways in which you need help.

Don't be ashamed to ask for what you need; realize that many people genuinely care about you and are honored to have opportunities to help in meaningful ways. Ask for help with practical things like babysitting, meals, or home repairs. Talk and pray with others about your life. Seek professional help as well, from your pastor or a trained counselor. Join a divorce recovery group and/or have several friends encourage you and keep you accountable as you heal. Whenever you are able, return the favors by helping other people in need.
Be patient. Understand that it will take time to grieve the loss of your marriage. Give yourself extra time to rest as you heal. Don't take on too many new commitments right now; reduce stress however you can.
Make some positive changes. Use your time well to start a new life. Make physical changes like getting more exercise and eating a more nutritious diet. Make mental changes like studying a subject of particular interest to you, reading more, and attending lectures. Make spiritual changes by changing the ways in which you worship God or by going on a retreat.
Don't blame God. Understand that, because of the sin in our fallen world, tragedies like divorce happen. Know that God grieves along with you. Acknowledge the choices you and your former spouse made that contributed to your divorce rather than blaming God for something He didn't want to happen. Let God embrace you with His unchanging love and help you learn from your suffering.
Forgive. Don't let bitterness poison your heart, keep you stuck in the past, and block your intimacy with God. Be willing to forgive both yourself and your former spouse for whatever issues led to your divorce. Forgive any third parties involved, as well as any counselors, doctors, or pastors who couldn't help save your marriage. Remember that God has forgiven you all, and He will make it possible for you to forgive.

Realize that forgiveness doesn't mean that you forget what has happened or offer approval to the offender. Understand that you can choose to forgive as an act of your will, no matter what you're feeling. Decide to forgive, and rely on God's power to do so. Clearly communicate your forgiveness to your former spouse and any other people involved, through a face-to-face meeting, a telephone call, a letter, etc. But also remember that forgiveness is an ongoing process rather than a one-time event; draw on God's strength to help you forgive whenever a situation dredges up hurt once again.
Have something to say about this article? Leave your comment via Facebook below!
advertise with us
Example: "Gen 1:1" "John 3" "Moses" "trust"
Advanced Search
Listen to Your Favorite Pastors