How to Find Hope in an Emotionally Destructive Marriage
Whitney Hopler, Crosswalk.com Contributing Writer
Friday, September 13, 2013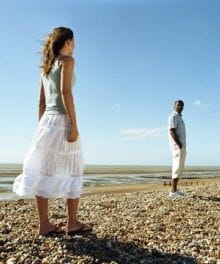 Editor's Note: The following is a report on the practical applications of Leslie Vernick's upcoming book, The Emotionally Destructive Marriage: How to Find Your Voice and Reclaim Your Hope (WaterBrook Press, 2013).
God intends marriages to be emotionally safe relationships of love and respect, in which both spouses can experience a life of peace and joy together. But in this fallen world, too many marriages have become damaged by sinful attitudes of cruelty, disrespect, deceit, and indifference.
If your marriage has become emotionally destructive, you don't have to suffer passively in it. God will give you the courage and strength to find your voice in your marriage and stand up to abuse or neglect. Here's how you can find hope in an emotionally destructive marriage:
Take an honest look at the state of your marriage. Reflect on what your relationship with your spouse is currently like and ask God to help you discern whether it's simply disappointing (as all marriages are from time to time) or truly destructive to your emotional wellbeing. An emotionally destructive marriage includes an ongoing pattern of abusive or neglectful attitudes and behaviors that result in tearing you down or inhibiting your growth. In a destructive marriage, your spouse will usually not be aware of how much his or her destructiveness is affecting you, fail to take responsibility for it, and fail to change. Consider various aspects of your marriage, such as: your friendship, your sexual relationship, how you handle differences and conflict, how you make up after a fight, your finances, how you make decisions together, and your spiritual journey. In any of these areas, does your spouse regularly deny, criticize, or crush your personhood, dignity, or freedom of choice? If so, your marriage has become emotionally destructive.
Keep in mind that all healthy marriages contain three essential ingredients. One of those ingredients is mutuality, which means that both spouses are contributing qualities of honesty, caring, respect, responsibility, and repentance to the marriage so that it can keep growing stronger. Another is reciprocity, which involves sharing both power and responsibility in the marriage as both people give and receive. Finally, freedom is another essential component of a healthy marriage. That means that both spouses are free to be themselves, make choices, give input, and express feelings without fear of being badgered, manipulated, or punished.
Express your feelings about your marriage to God in prayer. God already knows how you feel in your marriage, but He wants you to pray about your feelings so you can sense His great love for you while you communicate with Him, and so you can listen to the guidance that He'll give you through His Holy Spirit about what you can do to move toward safety and sanity.
Center yourself in God, not your spouse. It's dangerous to let the opinions of your spouse – an imperfect human being – determine what you believe about yourself. You should only look to God to define your identity and determine your worth. Make a frequent habit of reading and meditating on the Bible to absorb its truths about what God says about you. Put your marriage in its proper place by making God your first love. Then when your spouse disappoints you or devalues you, it won't crush you because you'll be centered in what matters most: your relationship with God.
Build a strong core. Ask God to help you develop four core qualities that will help you be strong while dealing with an emotionally destructive marriage. Commit yourself to truth and reality by not giving in to wishful thinking and seeking real evidence of change in your marriage. Open yourself up to growth, instruction, and feedback about your marriage from caring and trustworthy people. Be responsible for yourself and respectful toward your spouse without dishonoring yourself. Finally, be empathic and compassionate toward your spouse as a suffering sinner just like you, without enabling him or her to continue to disrespect or abuse you.
Recently on Divorce and Remarriage
Have something to say about this article? Leave your comment via Facebook below!
advertise with us
Example: "Gen 1:1" "John 3" "Moses" "trust"
Advanced Search
Listen to Your Favorite Pastors