I'm Dating...Again: The Road to Remarriage
Laura Petherbridge, TheSmartStepmom.com
Friday, October 05, 2012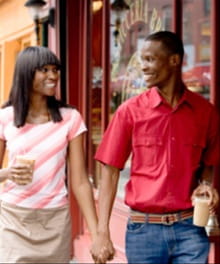 Editor's note: This article originally appeared on LauraPetherbridge.com. Used with permission.
"If I had a gun right now I'd shoot you, and my ex-husband." No words were verbalized but the hazardous thoughts charged through my brain. Sitting next to me was the unsuspecting gentleman who had foolishly asked me out on a date and then had the misfortune of my accepting. My obnoxious mood was the result of the recent abandonment by my husband. Why accept the invitation? The loneliness was overwhelming and I naïvely assumed an innocent date would be the cure. I was wrong.
Images of me snarling "Make My Day" as I gradually inched out the same cool one-sided grin that Clint Eastwood flaunts in Dirty Harry danced in my head, with gun in hand.
Fortunately, I came to my senses and realized that asking my date to stop at a pawnshop to make the purchase might seem odd. The rest of the evening was uneventful, and I was eager for it to end.
My re-entry into the dating scene didn't go very well, mostly because I attempted it too quickly. Laughing at the memory comes easily now (I wonder whatever happened to that poor guy?), but it definitely was not funny then. I detested the awkward adolescent feelings, and I resented having to return to the dating world. That stage of my life was supposed to be over. Dating slapped reality into my shattered heart and forced me to admit the painful truth of my deceased marriage.
Adapting to the dating world again doesn't have to be as excruciating as my experience. If timed properly, and prepared for, it can be a fascinating season in life.
In my eighteen years of leading divorce recovery ministry I've observed men and women of various ages transition back into dating. After scrutinizing both their wise and foolish choices I believe the following "dos" and "don'ts" to be helpful.
DO:
…wait until your divorce is final. Even though you may "feel" divorced, the truth is married people don't date. You weren't married until you took your vows, and God views you as married until you have a divorce decree.
…give your emotions time to heal. Most people dash into dating before their weary, wounded heart is ready. Loneliness is a compelling motivator to "get on with your life" but understand that you are extremely vulnerable. There is nothing more dangerous than a wounded animal.
…acknowledge your discernment about the opposite sex may be damaged due to the divorce.
…take Christian classes or read books that teach how to detect an unsafe person. Two excellent resources by Dr's Cloud and Townsend are Boundaries in Marriage and Safe People.
…look for someone who is satisfied in their singleness. If you observe a panic or necessity to get married they aren't ready.
…before the date, seek out people who can answer a few probing questions about this person's values, character, honesty, family history, etc.
…before the date, pray and commit to God your sexual purity. It's the person who doesn't prepare for temptation beforehand, which often weeps afterwards.
…drive your own car to the first few dates. This gives you the security and peace of mind of knowing you can escape if you're uncomfortable.
…guard yourself from date rape. Meet in a public place.
Recently on Divorce and Remarriage
Have something to say about this article? Leave your comment via Facebook below!
advertise with us
Example: "Gen 1:1" "John 3" "Moses" "trust"
Advanced Search
Listen to Your Favorite Pastors