Stepfamilies: New Beginnings
Ron L. Deal, smartstepfamilies.com
Friday, January 04, 2013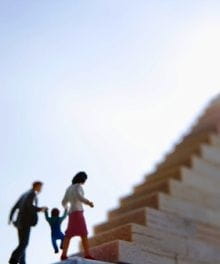 Put It Into Practice
Anyone on a diet can tell you it's not really a diet unless you eat differently. You can read every good book on the subject, but it's not a diet until it translates into action. In the same way, you can fill your mind with godly things, but unless you push yourself into service, kindness, and every other action that flows from what is true, you will never be transformed into the likeness of Christ. Paul's next admonition to those who think on what's good, noble, and right is to "put it into practice" (Philippians 4:9). That's where our desires of transformation become real.
A Peaceful Reward
The world has it backwards. They say, "If it feels good, do it." In other words, "Whatever brings you satisfaction is what you should pursue." But God says pursue what is right and praiseworthy and then you will experience satisfaction and peace—true peace. When we are driven by our emotions, we fall prey to the enticements of the world and "do what I do not want to do." But when we think of things from above, meditate on their truths, and put them into action in our lives, then and only then do we experience emotional peace.
A Stepfamily in Transformation
So there you are, trying to love your family more completely, but somehow not finding it an easy task (welcome to life!). Begin this new year by filling your mind with things from above. Spend time in God's word and with godly people who can show you how a life of love is lived. Meditate (which means really concentrating on the specifics) on what love would have you to do in your relationship to someone else. Rehearse in your mind what you will say and do differently. Make it so complete and familiar in your mind that when it comes time for action, you'll know just what to do.
Then, practice, practice, practice. No one ever gets it right the first time. But challenge yourself to turn your mind controlled by the Spirit into action.
Then, and only then, will you experience peace. Until then, you will likely endure heartache, distress, guilt, frustration, sadness, and a host of other emotions. Don't let those negative feelings hold you back from the transformation God wants to bring to your life. Trust Him when you can't trust yourself or those in your family, and you'll discover—over a lifetime—that you, too, have been delivered from this "body of death…through Jesus Christ, our Lord."
Editor's note: This article originally appeared at SmartStepFamilies.com.
Ron L. Deal is president of Smart Stepfamilies™, director of blended family ministries for FamilyLife®, a popular conference speaker on marriage and family matters, and author/coauthor of a series of DVD's and books for stepfamilies including The Smart Stepfamily, The Remarriage Checkup (with David H. Olson), The Smart Stepmom (with Laura Petherbridge), The Smart Stepdad, and his latest Dating and the Single Parent. Learn more at www.smartstepfamilies.com.
Publication date: January 4, 2012
Recently on Divorce and Remarriage
Have something to say about this article? Leave your comment via Facebook below!
advertise with us
Example: "Gen 1:1" "John 3" "Moses" "trust"
Advanced Search
Listen to Your Favorite Pastors